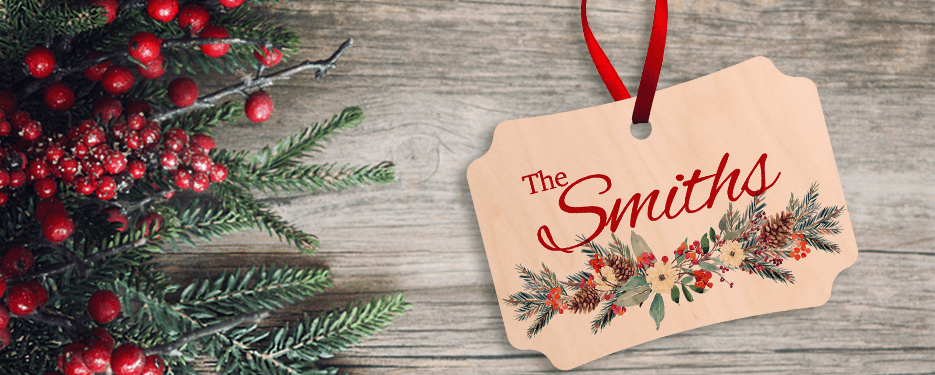 With the holidays in full swing, it's time to start thinking about what gifts you'll be making for everyone this year! Giving your loved ones personalized gifts is not only generally less expensive than going out and buying gifts, it will also mean so much more to them. There is nothing more special than giving someone a gift you made yourself. Let's go over some of the most popular holiday gifts that you can easily make with sublimation, heat transfer vinyl and more.
1. Personalized Mugs
Custom drinkware is a big hit year-round, but that's especially true during the holiday season. Personalized, sublimated mugs are always in demand as they make wonderful gifts for the family as well as stylish holiday décor (such as coffee mug candles). One of our favorite new mugs at Coastal are the stainless steel camp mugs, which are super trendy and are the perfect way to warm up with some hot cocoa.
Did you know? In addition to sublimation, it's also possible to create custom mugs with laser heat transfer paper. You can create vibrant, self-weeding transfers with papers like Magic Touch CPM 6.2 and FOREVER Multi-Trans!
2. Holiday Ornaments
A holiday gift guide would not be complete without ornaments! There is a lot of opportunity with ornaments, and you can create something truly special and sentimental that will hang on the tree for years to come. Sublimate high-resolution photos that celebrate new members of the family, newlyweds, and family pets. No matter what photo or design you choose to sublimate, ornaments are sure to warm the hearts of their recipients.
At Coastal, you will find a wide selection of ornaments in a variety of styles – from traditional round ceramic ornaments to stars, snowflakes and everything in-between.
3. Custom T-shirts & Sweaters
Looking to coordinate the perfect family picture? Create matching apparel with fun holiday sayings using heat transfer vinyl such as Siser EasyWeed (or Siser Glitter for the extra holiday look and feel).
If you have a sublimation printer, you can also use the new Siser EasySubli heat transfer vinyl to create your own holiday patterned vinyl or sublimate full-color designs and photos onto the apparel. You can learn all about Siser EasySubli on our other blog. Another way to effortlessly produce more detailed designs (as well as transfer photos) is by using heat transfer paper.
4. Home Décor
Personalized home décor items are some of the easiest gifts to make, but that does not take away from how special they will be to their recipients. Using sign vinyl, such as Siser EasyPSV, you can create festive wooden signs, decorative plates and glasses and many other kinds of décor.
If you're a Silhouette CAMEO user, you can find loads of affordable holiday designs in the Silhouette Design Store. Likewise for Brother ScanNCut users, you can find plenty of holiday-themed patterns in the CanvasWorkspace software. If you're not finding quite what you're looking for, you can always search Google or Pinterest for "free holiday svg" and browse through free cut files.
Another great idea for home décor is sublimating the new Unisub hardboard signage that comes in three fun shapes and sizes. This will allow you to print full-color designs and photos on durable signs that will last many a holiday season.
Bonus! Looking for a fun way to add some festive decorations to your home or business? Siser EasyPSV Removable sign vinyl is perfect for adding some holiday flare to your walls, mirrors and windows. It leaves no messy glue behind, and it's even suitable for painted drywall.
5. Custom Socks
Give a gift that will warm their heart – and their toes! Custom socks have a very big market, and there are so many things you can sublimate on socks. In fact, in 2019, Google searches for custom socks will be at its highest ever (nearly double the search volume in 2018).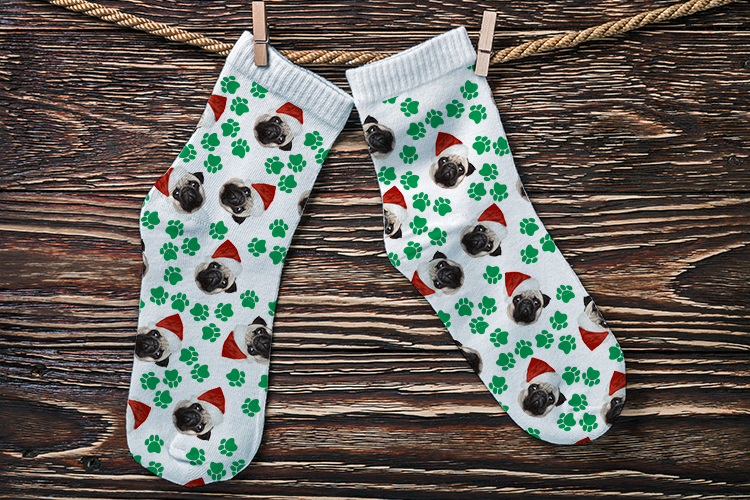 One of the most popular trends is printing photos of pets on socks – these are a super great gift for the pet moms and dads in your life! Another popular idea is printing "If you can read this" on the bottom of one sock and then inserting your funny phrase on the other sock (like "Leave me alone. I'm watching Hallmark movies!"). No matter what you choose to print, you really can't go wrong giving custom socks.
Share your holiday creations with us on social media! Tag your photos on Instagram with #coastalbusiness for a chance to be featured! As always, if you have any questions, do not hesitate to reach out to our Custom Success Team at 800-562-7760 or by email at [email protected]