Beginner's Guide to Inkjet Heat Transfer Paper
Hey there! Are you looking to start printing your own custom T-shirts and other apparel? Then you're in the right place. Today, we are going to talk about inkjet heat transfer paper – one of the easiest and most affordable ways to start printing vibrant, full-color custom T-shirts. Inkjet heat transfer paper is where many garment decorators get their start largely due to the very low cost of entry. In fact, all you really need to get started is an inkjet printer, a pack of inkjet heat transfer paper, a heat press, and a few good ideas!
Now, before we go further, this guide will specifically cover inkjet heat transfer paper, which uses an inkjet printer. There is a separate decoration process called laser heat transfer paper - also known as white toner transfer – which will not be covered. If you are interested in laser heat transfer paper such as with the Crio white toner printers, we recommend checking out our other guide here.
With that out of the way, let's continue on our journey toward building your own custom T-shirt business – starting with some of the basics.
What is Inkjet Heat Transfer Paper
Inkjet heat transfer paper, or HTP for short, is a specialty paper that allows you to print out your digital designs with an inkjet printer and then transfer them onto T-shirts and other garments. This utilizes a process called heat transfer.
Heat transfer works by combining adequate heat and pressure to permanently adhere your printed design onto your garment. With inkjet HTP, you lay down your printed sheet on top of your garment and then apply heat and pressure. Typically, this is done using what's known as a heat press – an electronically heated machine that sandwiches a garment in between its two surfaces (known as platens). The combination of heat and pressure permanently transfers your design onto the fabric, leaving you with a beautifully decorated custom garment.
If you are familiar with the old iron-on transfers that you could buy at your local hobby store, heat transfer paper is a similar concept but with much better quality, vibrancy, durability, and feel. The results you get with heat transfer paper are professional quality, and many T-shirt and apparel decoration shops use inkjet HTP to produce their custom clothing.
What Do I Need to Get Started?



1. Inkjet Printer
The main piece of equipment that you need to start printing T-shirts with inkjet heat transfer paper is an inkjet printer. Inkjet printers are some of the most common printers on the market, and chances are, if you have a printer at home, it's an inkjet. However, for garment decoration, not just any inkjet printer will work.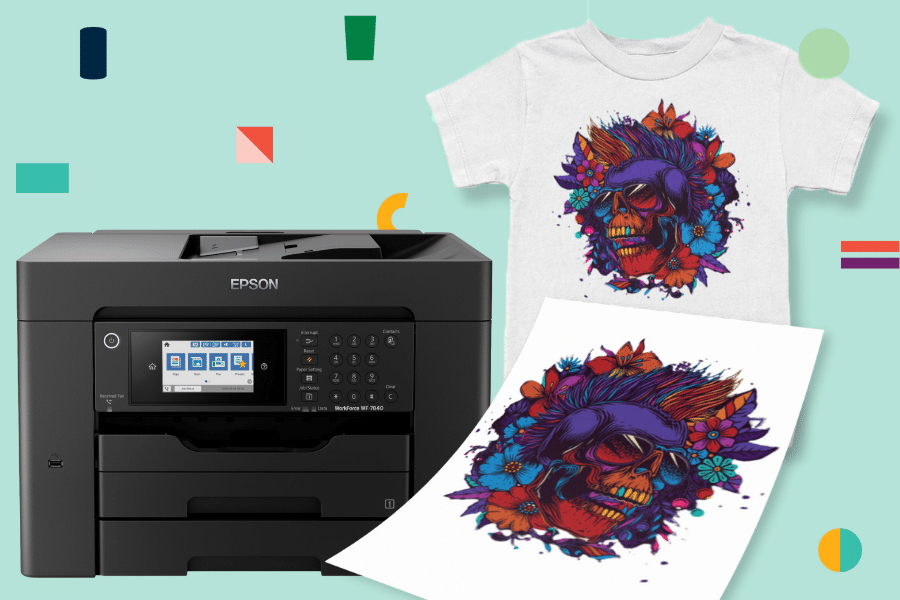 For the best results, we recommend an inkjet printer with pigment-based ink, which is most common in Epson printers but can also appear in Canon and other brands. Pigment-based ink is necessary for prints that you intend to last a long time. Transfers that are printed with other types of ink such as dye-based ink often run/bleed and wash out during laundering. And you certainly do not want your customers' new T-shirts to wash out after one use!
If you already have an inkjet printer at home and want to know if it has pigment-based ink, we would recommend typing the model # into Google and/or checking with the manufacturer.
Two printer models that we would recommend are the Epson WorkForce Pro WF-7820 and the WF-7840. These models are the successors of two very popular printers, the WF-7710 and WF-7720, which have long been used in inkjet heat transfer as well as converting to dye-sublimation printers. As far as price goes, you're looking at around $280-$330 for one of these.
While we do not sell pigment-based inkjet printers at Coastal, these are printers that you can often find at electronics and office supply stores like Best Buy, Office Depot, Staples, etc.
2. Heat Press
The second primary piece of equipment that you will need is a heat press. As we mentioned, a heat press is a machine that applies both heat and pressure to permanently transfer your design to your garment.
Now, you may ask, "Well, can I just use a home iron?" And the answer is yes-ish. While it's not ideal due to the lack of consistent pressure, and you are risking long-term durability, it is possible to use a home iron with some inkjet heat transfer papers. Specifically, the papers you can use an iron with are opaque papers designed for dark garments, which we will get into. Papers for light garments require a heat press – an iron won't work.
For your heat press, there are a lot of options, and it's easy to get overwhelmed by all of the different kinds of heat presses. So here are a few things to look out for:
1. Go for a High-Quality, USA-Made Press
You can find a lot of inexpensive heat presses that are made overseas on Amazon and other online retailers, and as the saying goes, you will get what you pay for. Simply put, many of these presses are not worth the hassle and trouble that you will ultimately have. Because while you will pay less upfront, you will pay more in the time and labor you spend troubleshooting why your design isn't coming outright.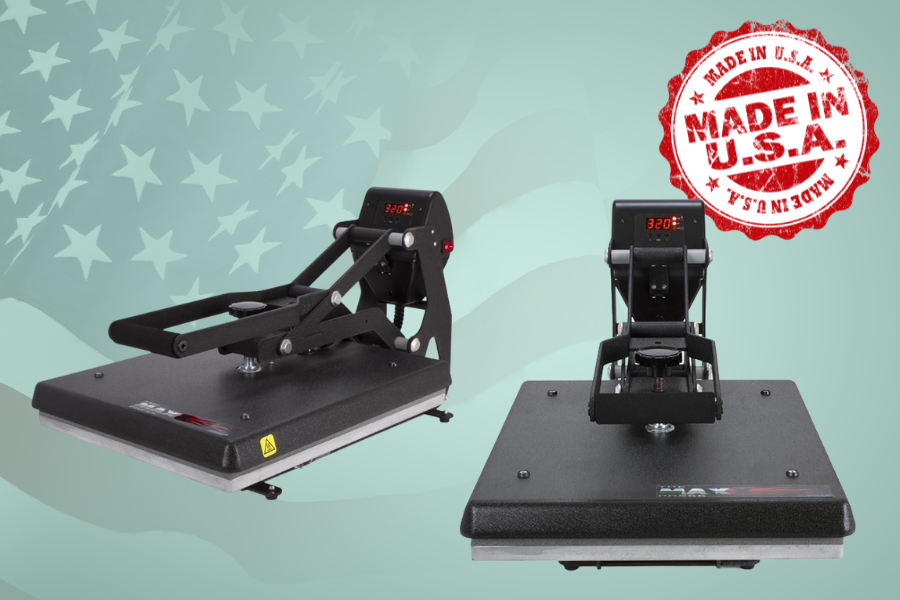 Like a home iron, many of these inexpensive presses lack consistent pressure and even heat distribution, which may cause issues with your transfers and yield less-than-ideal results.
So, our recommendation is to stick with a high-quality heat press that's made in the United States. Some reputable brands include Geo Knight, Stahls' Hotronix, Insta, and HIX. These brands make presses that are built to last, which will stick with you as you continue to grow your decoration shop in the years to come.
2. Choose Between a Clamshell and Swing-Away Press
Heat presses come in two primary styles – clamshell and swing-away. As the name suggests, a clamshell opens like a clam and provides a simple and space-efficient design. Clamshells are typically the more economical option, and for inkjet heat transfer paper, clamshell presses are perfect.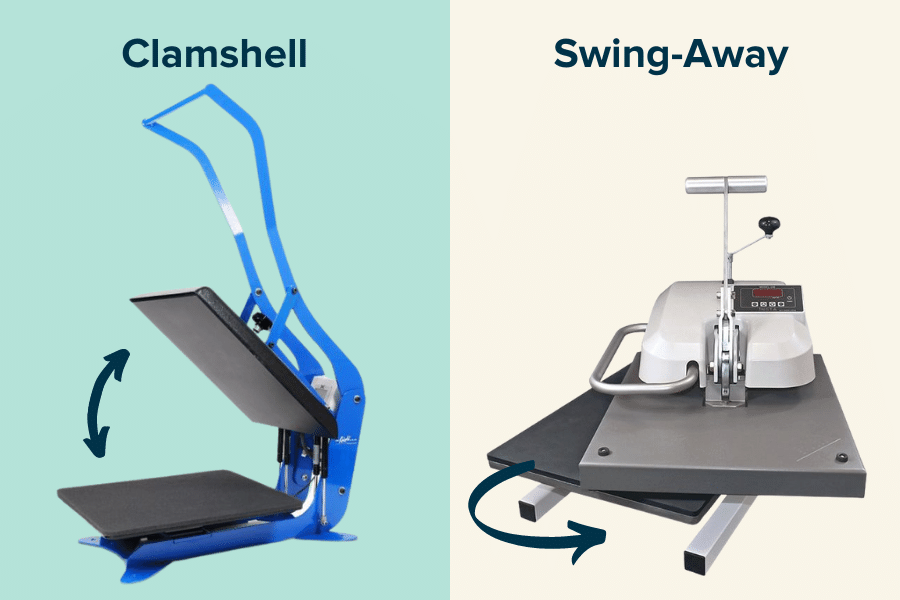 A swing-away press opens and closes in a vertical motion, and the upper platen rotates to allow you to place or remove your T-shirts. A swing-away press provides the most consistent pressure of any heat press, but for inkjet heat transfer paper, it's a little overkill. However, if you plan on eventually adding other decoration methods such as sublimation and laser heat transfer paper, which benefit from more consistent pressure, it may be a good idea to invest in one now.
3. Determine What Size Press You Need
The third thing to consider is what size heat press you need. When we talk about size, we are referring to the size of the platen, which determines the maximum size design you can press. The most common heat press size and the industry standard is 16" x 20"; however, that may be more than you need, especially when just starting out.
Inkjet heat transfer papers often come in three sizes: 8.5" x 11", 11" x 17", and 13" x 19". Consider how large your designs will be and purchase an appropriately sized heat press.
Recommended Heat Presses:
3. Inkjet Heat Transfer Paper

So now that you have your two main pieces of equipment, the next thing you need is a pack of inkjet heat transfer paper. This is the transfer sheet that you will be printing on, which will then be pressed onto your garment.
What Color Garments Are You Printing?
There are two main types of inkjet heat transfer paper: paper for white/light-colored fabrics and paper for dark-colored fabrics.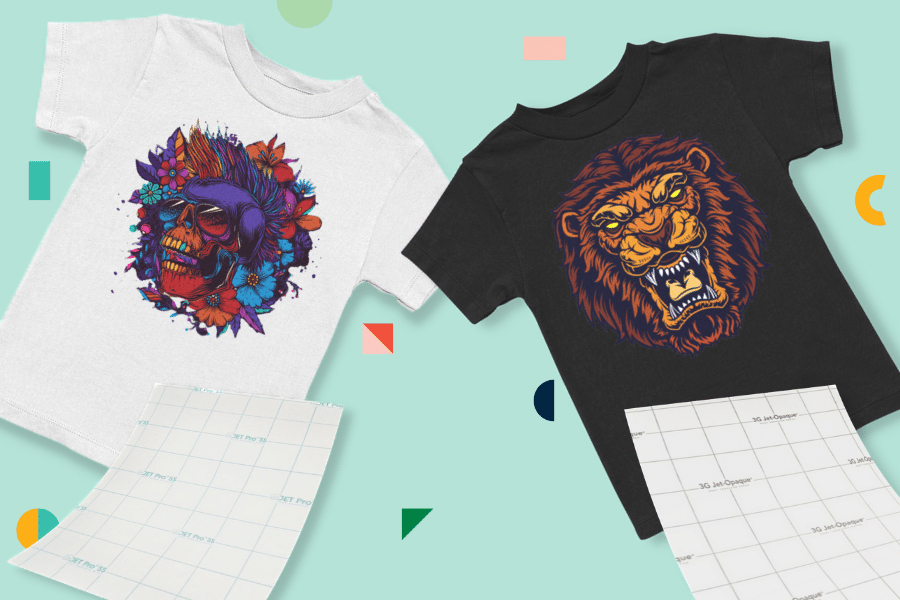 To choose which paper you need, ask yourself, "What color T-shirts/garments will I be printing?" If you plan on printing primarily light-colored T-shirts, grab a pack of inkjet heat transfer paper for lights such as JET-PRO Soft Stretch. If you will mainly be doing dark-colored garments, pick up a pack of inkjet HTP for darks like 3G Jet Opaque.
Recommended Heat Transfer Paper for Light Garments:
Recommended Heat Transfer Paper for Dark Garments:
What's the Difference Between Paper for Lights and Darks?

You might be wondering what the difference is between inkjet HTP for lights and inkjet HTP for darks. Great question! Inkjet paper for lights is made of a clear, printable film while paper for darks consists of a white, opaque material.
The reason for this is that your printer's inks are translucent, so your printed designs will take on whatever color background you print on. This means that for dark garments, you must use a white opaque sheet for your designs to show vibrantly. If you try you print on a black T-shirt with a clear inkjet paper for lights, your design will be invisible.
Can I Use an Opaque Paper on Light Garments?

Yes! While dark garments require inkjet HTP for darks, light garments can technically use either. If you prefer the look and feel of opaque papers like Jet Opaque II, you can use it for every single one of your T-shirts!
However, we will state that inkjet HTP for lights has a couple of benefits over their opaque counterparts. The first is that they are usually less expensive, which will help increase your profit margins on your light T-shirts. The second is that they tend to have a softer "hand" or feel while opaque papers can have a thicker vinyl feel. Lastly, with clear inkjet HTP for lights, trimming is optional, which we will cover next!
4. Vinyl Cutter (Optional)
Now that you've got your primary equipment – your printer and heat press – along with a pack or two of some inkjet heat transfer paper, the next item to consider is a vinyl cutter.
Whenever you print onto inkjet heat transfer paper, you will typically want to trim away the unprinted areas of the paper. With inkjet paper for lights, this is optional because the unprinted areas are clear and will not be visible when you transfer your design to the T-shirt. However, you will still be able to physically feel the clear, unprinted areas. For that reason, you may still want to trim around the design.
With opaque papers, trimming is essential. This is because any unprinted area is white, and unless your want a white box around your design transferred to your garment, you will need to trim around it. You can do this using a pair of scissors, but if you would like the highest-quality prints, we would recommend investing in a vinyl cutter.
With a vinyl cutter, you can cut precisely around your printed design, which is especially important if you have a more intricate design that would be challenging or time-consuming to do by hand.
We Recommend These Vinyl Cutters:

5. Computer + Design Software

At this point, you've got most of your bases covered. The next thing you will need is a computer along with design software. There are a lot of great design programs on the market, and unlike in the old days, you don't have to shell out a lot of money all at once for them.
One of the latest design programs that is making waves is Affinity Designer. It has very similar capabilities to Adobe Illustrator, but at the time of writing, it costs just $55. That's $55 once – not per month. And no, we are not sponsored or endorsed by Affinity. If you are just starting out, we encourage you to check out this incredibly affordable, powerful software.
Other great options include Adobe Illustrator, Adobe Photoshop, and CorelDRAW. These three programs remain the industry standard for graphic design and T-shirt printing. They typically involve a monthly subscription and are more expensive than Affinity, but if you want the most robust tools at your disposal, these are great. At Coastal, we primarily use Illustrator and Photoshop, and we are big fans of Adobe Creative Cloud in general.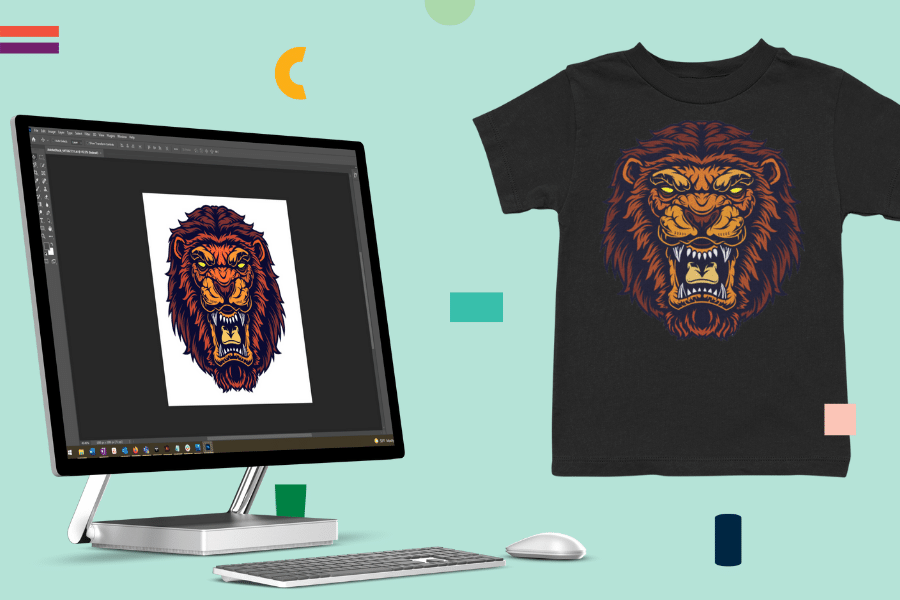 If finding a design program to use is intimidating, and you're thinking, "I know nothing about graphic design," don't worry – you're in good company. Most folks who start a printing shop are not graphic designers (nor are we). Fortunately, there are plenty of tutorial videos that you can find for free on YouTube that will help you get up and running.
Additionally, you may even find some free (and easy-to-use) online graphic tools like Canva to suit your needs.
6. Accessories
Okay, we're almost done – I promise! After you've got all your major equipment, your heat transfer paper, and your computer/design software sorted out, you will want a few accessories to help out with production.

Heat transfer gloves are important as they protect you from burning yourself when working with the high temperatures of a heat press. We recommend picking up at least a pair of these. Silicone-treated cover sheets cover your transfer and your garment when you heat press them, and they prevent ink from bleeding onto your heat press's upper platen while also protecting your garment from scorching. They're around 10-15 cents a sheet and can be reused 5-10 times. They're totally worth it.
A hook tool - or weeding tool - is beneficial if you are using a vinyl cutter to cut around your design. This will help you easily weed away the excess material after trimming. And lastly, a heat press platen cover protects your bottom platen from getting ink on it as well, so it stays in tip-top shape for years to come!
Additionally, we would recommend having a pair of scissors on hand as well as an extra set of ink cartridges for your printer. There is nothing worse than production coming to a grinding halt because you ran out of cyan or magenta. Having an extra set on hand helps to ensure production continues going smoothly!
7. Blank T-Shirts & Garments
At this point, you should have everything you need to print a custom T-shirt. The only thing left is a T-shirt to print on! There are many places where you can source wholesale blank T-shirts and apparel to decorate. We would recommend checking out one of the following distributors (in no particular order):
At Coastal, we offer high-quality polyester T-shirts by Vapor Apparel, which are primarily suited for dye-sublimation printing but can also be decorated with inkjet heat transfer paper. If your customer is looking for 100% polyester, you may want to check them out. For all of your cotton T-shirts and blended fabrics, you will want to visit one of the apparel wholesalers above.
Wrapping Up
We hope this beginner's guide has proved useful in helping you get started printing custom apparel with inkjet heat transfer paper! At Coastal Business Supplies, we help entrepreneurs like yourself create and grow your own custom merchandise business through scalable solutions for heat transfer, sublimation, direct-to-garment, vinyl, and more.
If would like additional help getting started, or have any questions about the process, the equipment and supplies you need, etc., please do not hesitate to get in touch with us! Our team can be reached at 800-562-7760 and [email protected]. Additionally, you can reach out to us on most social media platforms like Facebook, Instagram, TikTok, etc.!
Happy decorating!