Sawgrass SG500 ChromaBlast Printer System for Cotton Fabric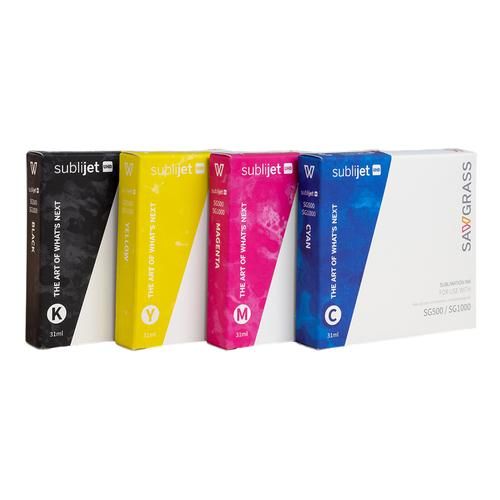 SubliJet
Standard Sublimation Ink for Most Applications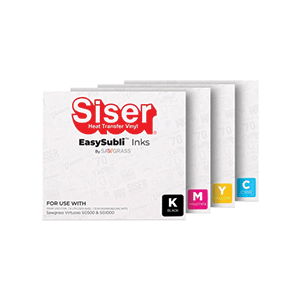 EasySubli
Specialty Sublimation Ink for Siser EasySubli Heat Transfer Vinyl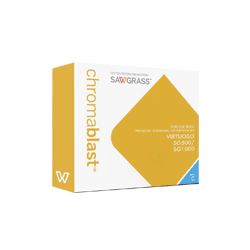 ChromaBlast
Patented Ink for Light-Colored Cotton Garments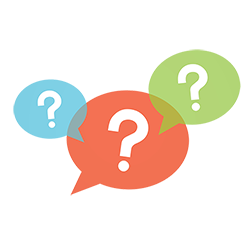 Not Sure?
Click here to learn more about different inks.
General! Check out our exclusive Sawgrass SG500 product sheet, found under the Downloads tab, on this page.
Sawgrass SG500 ChromaBlast Printer System for Cotton Fabric
Sawgrass ChromaBlast is the ideal solution for printings vibrant transfers on light-colored cottonand cotton blend fabrics. The magic is in the ChromaBlast ink and paper, which work together tochemically bond your design to 100% cotton, opening the door to long-lasting color on cotton apparel.
The Sawgrass SG500 has the compact footprint and rugged reliability of its predecessor, the SG400, but has been updated from the inside out to perform more efficiently, connect more easily, and deliver better output than ever. The SG500 offers WiFi connectivity, improved resolution, and an impressive array of mechanical improvements. Every SG500 printer is also backed by lifetime tech support and a 2-year warranty, providing you with complete peace of mind.
What's Included
Sawgrass SG500 ChromaBlast Printer
Sawgrass ChromaBlast-UHD Ink 31ml Install Kit
Sawgrass CreativeStudio Design Software
Sawgrass Print Manager
USB Cable and Power Cord
Free One-on-One Setup and Onboarding ($200 Value!)
Design Mate - an alternative design solution to Creative Studio ($1,500/ year value)
Print Mate - an alternative print solution to Sawgrass Print Manager featuring a more robust print process ($500/ year value)
Market Mate - your very own personalized selling platform ($1,260/ year value)
A Business in a Box
When you buy a Sawgrass printer, you're actually getting a business in a box. At no additional cost, you'll have access to a suite of resources that will help you build a successful product customization business. You'll be able to create locally, and sell globally. You'll start with Sawgrass Academy, Sawgrass' online training platform. You'll create high-quality artwork in Sawgrass' online design software, CreativeStudio. You'll print those designs with optimal color using the Sawgrass Print Manager. Finally, you'll create an online shop on GO Expression, and send or produce orders around the world with GO Exchange.
Save Money with Sawgrass
Did you know? Your Sawgrass printer includes over $3,800* of business-building features at no additional cost. An e-commerce website, design software, color management software, customizable royalty-free designs, training and certification, and lifetime tech support are all included - free of charge.
*Costs are approximate in USD, based on industry standard products.
When you order a Sawgrass SG500 printer, you get to choose from one of three inks for your printer: SubliJet-UHD, Siser EasySubli, and ChromaBlast-UHD. This package contains the ChromaBlast-UHD ink.
Sublijet-UHD is Sawgrass' flagship dye-sublimation ink and is what most users will need. This ink is the most versatile, allowing you to print on an endless variety of polyester fabrics and poly-coated products like ceramic mugs, key chains, mouse pads, photo panels, and much more. SubliJet-UHD also works on sublimatable heat transfer vinyl.
Siser EasySubli is a sublimation ink that is designed in a collaboration between Sawgrass and Siser to work primarily with Siser's EasySubli sublimatable heat transfer vinyl. This allows you to transfer custom designs and photos onto both cotton and dark-colored fabrics. EasySubli also produces great results on other hard- and soft-surface products.
ChromaBlast-UHD is a specially formulated ink designed to produce vibrant transfers on light-colored cotton and cotton blended garments. This achieves a similar result to inkjet heat transfer papers. Because ChromaBlast is not actually a sublimation ink, this ink will not work on products and is meant solely for light-colored cotton fabrics.
Still not sure which one you need? We've got you covered. Read our full breakdown of the three ink types.
Note: while it is possible to swap inks, we strongly advise against doing this. As the process involves flushing a great deal of ink through your system, it is often more economical to purchase a second printer. Swapping inks is also hard on your printer lines and will void your Sawgrass warranty.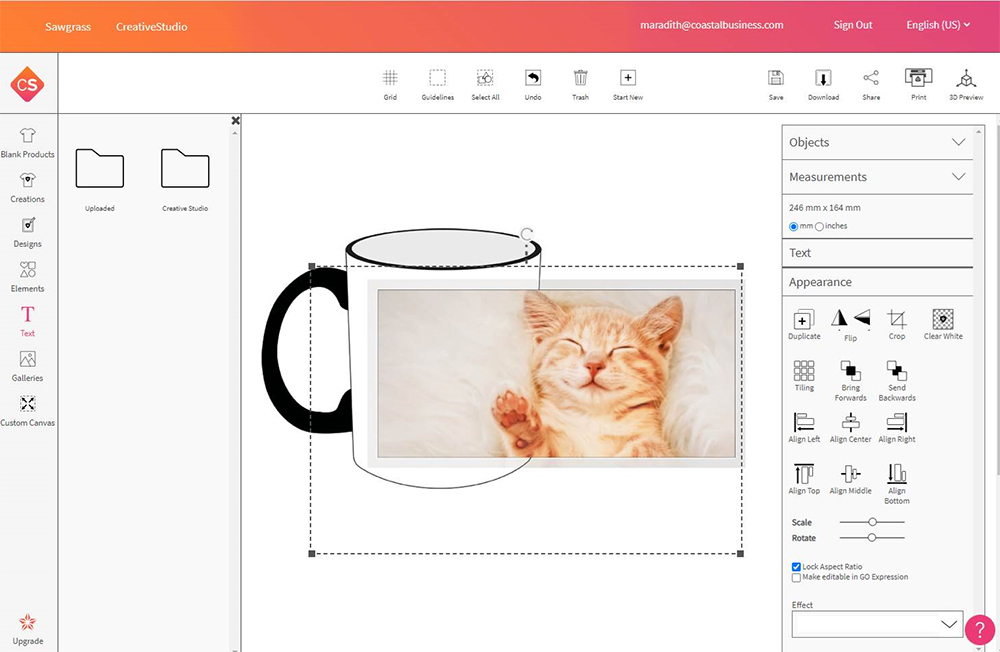 Every Sawgrass SG500 comes with a free license to CreativeStudio design software. CreativeStudio takes the frustration out of creation by including built-in product templates, thousands of ready-to-use designs, and a seamless integration with your Sawgrass SG500 printer. An individual account is included with every Sawgrass printer purchase.
A premium membership to CreativeStudio is also available for unlimited access to additional features and artwork. Save 30% off your annual subscription when you register through Sawgrass with code COASTAL.
Because different materials affect the way colors appear on garments, it's important to adjust the ink output to ensure optimal quality. Sawgrass Print Manager is a software utility that automatically makes those adjustments for you. Print Manager works in the background, managing the flow of color information from your digital artwork to your Sawgrass printer. This reduces wasted ink (saving you money) and ensures the colors on your finished products are as accurate and vibrant as possible.
Like every Sawgrass printer, the SG500 performs its own automatic maintenance, providing you with trouble-free printing and the ultimate peace of mind. Just simply leave your SG500 on when not in use, and it will do the rest.
Print from anywhere and everywhere. The Sawgrass SG500 now features WiFi Connectivity, so you do not have to be near your printer in order to send your jobs to the printer. Wireless setup is a breeze, and you will have your printer set up and printing wirelessly in no time.
The Sawgrass SG500 offers the absolute highest print quality with its modulated dot technology, which ensures optimal image output on your transfer paper. This technology allows for more accurate placement of ink dots and better dot uniformity, which translates to higher quality transfers.
The SG500 printer also prints up to an astounding 4880 x 1200 dpi for the ultra-fine photo-quality reproductions.
By default, the Sawgrass SG500 can print up to 8.5" x 14", which is perfect for creating many personalized products like mugs, coasters, keychains, mouse pads, and more. But if you find yourself wanting even larger prints, we've got you covered. The optional bypass tray for the SG500 allows you to feed up to 51" sheets through!
The Sawgrass SG500 is backwards compatible with the bypass tray for the SG400 series printer. So if you're upgrading from the Sawgrass SG400, there's no need to get a new bypass tray!
WiFi Connectivity
Next Generation Processor
Self-Maintenance Mode
Modulated Dot Technology for Optimal Image Output
Backwards-Compatible with SG400 Accessories and Bypass Tray
Maximum Media Size: 8.5" x 14" (215 x 355mm)
Maximum Media Size (With Optional Bypass Tray): 8.5" x 51' (215 x 1295mm)
Maximum Print Resolution: 4880x1200 dpi
Resolutions and Print Speeds: High Speed (600 x 600 dpi) 15 seconds; High Quality (600 x 600 dpi) 29 seconds; Advanced Photo (1200 x 600 dpi) 48 seconds; Ultra Fine Photo (4880 x 1200 dpi) 6 minutes 40 seconds
Dimensions: 15.75" x 17.25" x 8.5" (399 x 437 x 213mm)
Dimensions with Optional Bypass Tray: 15.75" x 28.5" x 23" (399 x 725 x 586mm)
2-Year Warranty with Lifetime Tech Support
Hardware
Memory (RAM): 4GB Required, 8GB or greater recommended
Processor (CPU): Dual Core CPU, Quad Core or greater recommended
**64-bit processor is required. Intel or AMD processor required. ARM processors not yet supported.
Available Hard Drive Space: 10GB or greater free
Screen Resolution: 1024x768 pixels at 100% zoom or greater
Internet Connection: Required to register software and for use of CreativeStudio
Supported Operating Systems
Windows 8.1 (Pro or Enterprise)
Windows 10 (Pro or Enterprise)
MacOS 10.13
MacOS 10.14
MacOS 10.15
MacOS 11.x
More Information

| | |
| --- | --- |
| Manufacturer | Sawgrass |
| Print Applications | Dye-Sublimation |
| Color | White |
| Media Width (up to) | 8.5" |
| Printer Type | ChromaBlast |