64" 6-Color DGI Poseidon Sublimation Printer
Special Price
$56,995.00
Regular Price
$62,995.00
---
Info! *Price includes $3,000 Coastal Instant Rebate and $3,000 DGI Instant Rebate.
64" 6-Color DGI Poseidon Industrial Dye Sublimation Printer
Speed, Versatility, Mobile Monitoring, Mini-Jumbo roll & Many More Award Winning Features!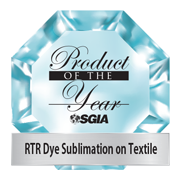 ---
The Fastest textile printer in its class with unparalleled performance and field-proven reliability.
---
The DGI Poseidon Industrial Printer is designed to provide ultra-high speeds, versatility and mini-jumbo roll capabilities without compromising quality. With mobile monitoring capabilities and a wide range of consumables, this machine offers maximum efficiency for all your large format printing needs.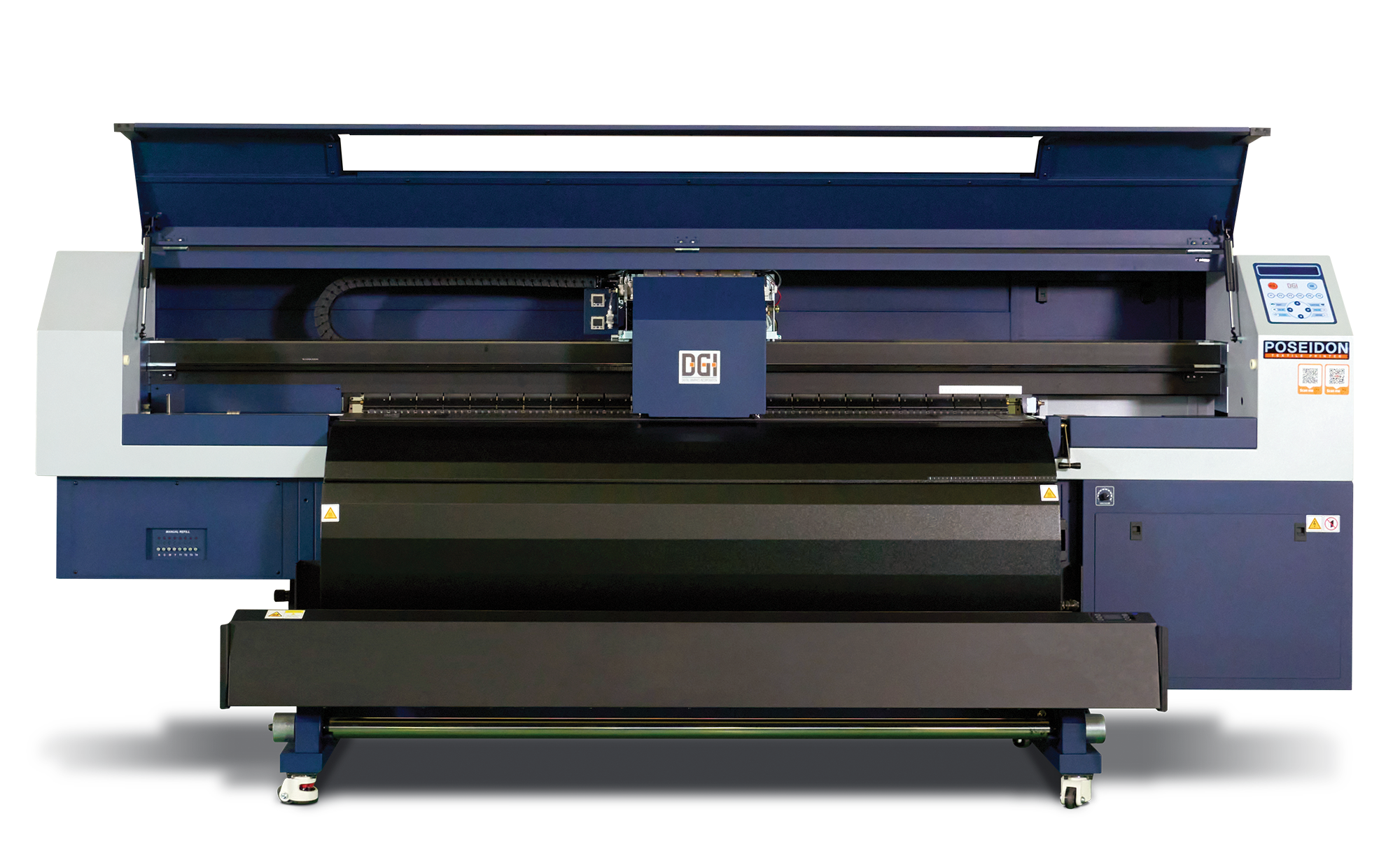 The 64" print width allows for more efficient production by accommodating larger graphics. High speed mode prints at up to 1 linear yard every 66 seconds, so you can get more done in less time!
The auto media feeder and take-up system makes job setup and switching easier, ensuring maximum productivity. With mini jumbo roll capacity of up to 1,640 ft (500m), the printer is designed to handle large jobs with ease. With the Jumbo Take-up System option, there is a roll capacity for 6,560 ft rolls (2,000m) - based on 70g paper. This versatile machine supports a range of dye sublimation, direct to fabric and direct to garment printing technologies.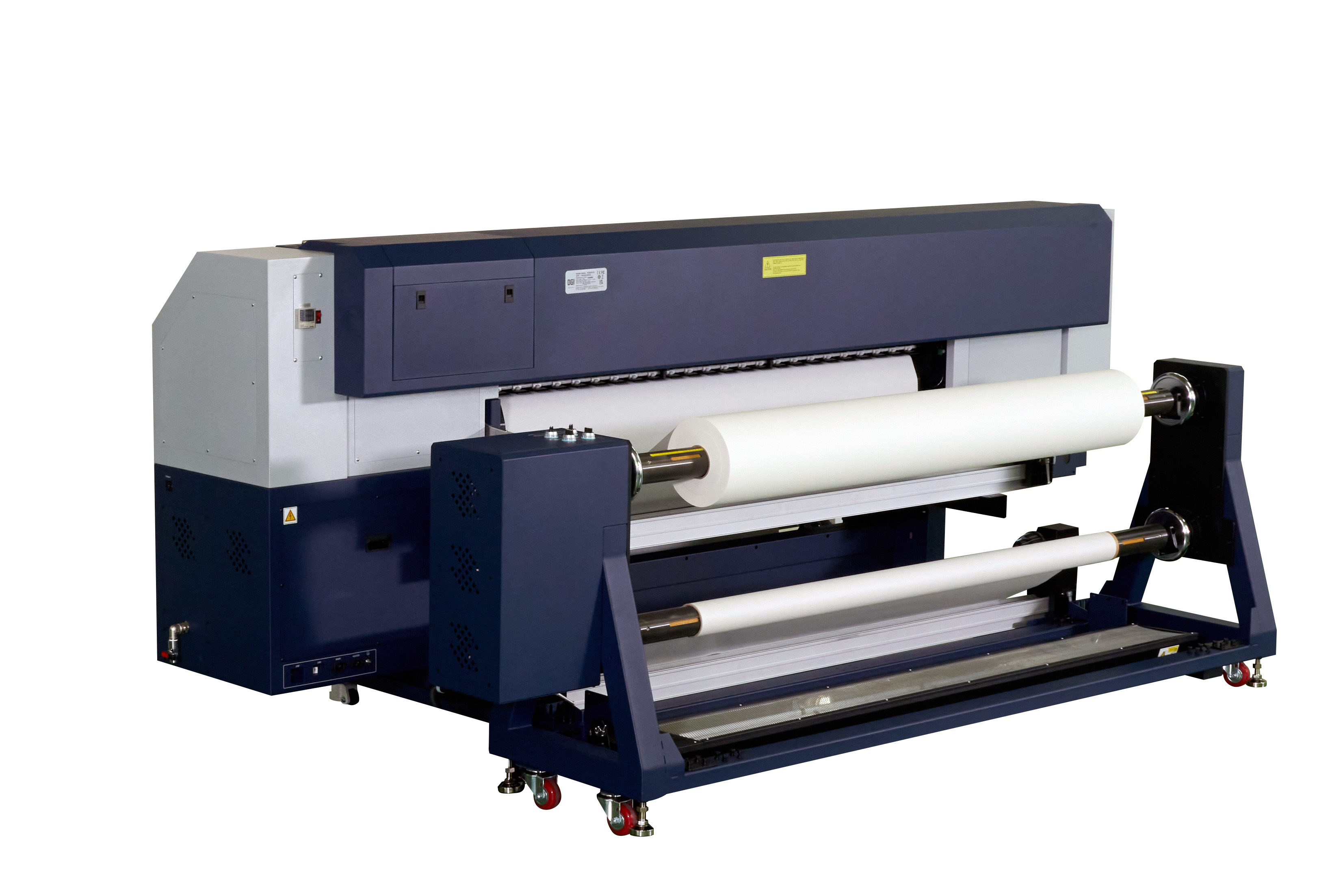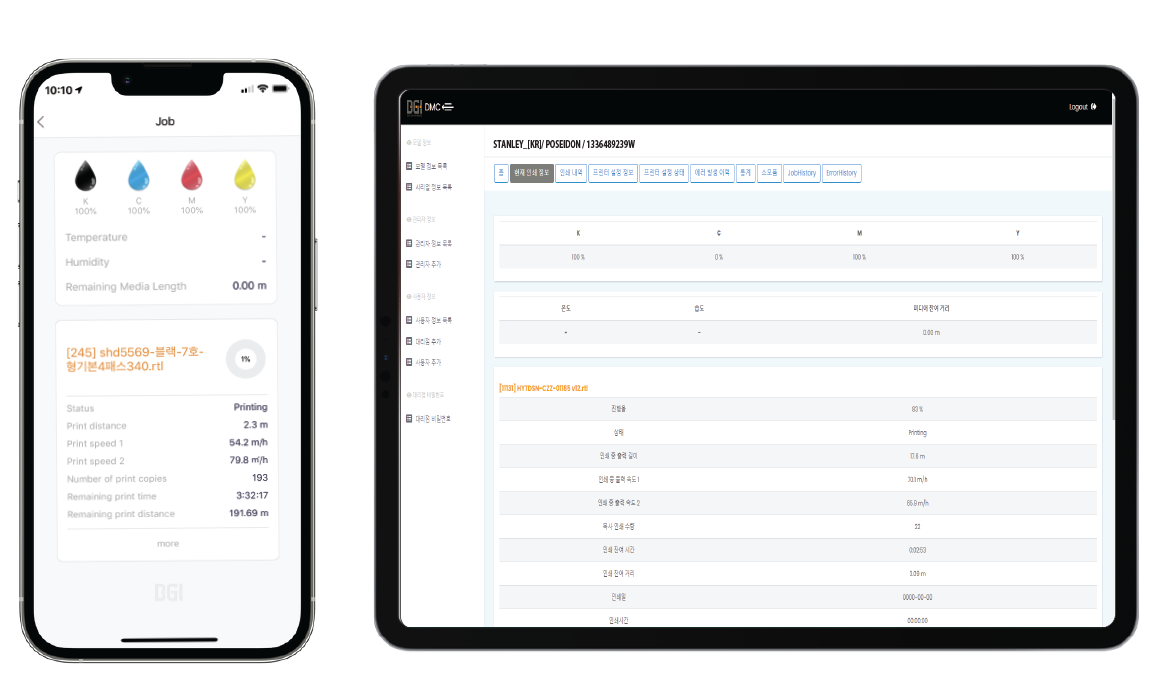 The user-friendly interface and mobile app accessibility makes it easy for operators of all skill levels to get the most out of the machine.
---
Printer Includes:
1 - Full Set of Ink - Cyan, Magenta, Yellow, Black, Fluorescent Pink & Fluorescent Yellow (1 Kg Each)
1 - Cleaning Fluid (1 Kg)
1 - Roll of Neenah Coldenhove Sublimation Paper
Ink & Supplies:
Specifications:
Color Configuration: 6 Colors (Cyan, Magenta, Yellow, Black, Fluorescent Pink, & Fluorescent Yellow)
Print head: Piezo (Kyocera) 3
Ink: DGI F160
Drop Size: 5~18 PL Variable Dot
Print Mode: Uni/Bi, Normal/Interleave I,II / DGI Band Free Mode I,II,III
Interface: TCP / IP, USB 3.0
Resolution Max.: 600 x 1,200 DPI
RIP Software: Ergosoft Ver. 15 (Optional : Wasatch, Caldera)
Operating Environment Temperature: 68~86°F (20~30°C)
Humidity: 40~70%
Electricity: Single Phase, 200~240V, 50/06Hz, 35A / (Printer: 15A, Dryer: 10A)
Max Print Width: 64": 64.17" / 74": 74.02"
Max Media Load: 64": 64.96" Dia: 7.87" / Wt: 66 lbs. / 74": 74.80" Dia: 7.87" / Wt : 66 lbs.
Dimensions Crated: 64": 137.80"(L) x 42.28"(W) x 67.33"(H) / 74": 137.80"(L) x 42.28"(W) x 75.20"(H)
Dimensions Uncrated: 64": 129.92"(L) x 47.25"(W) x 53.15"(H) / 74": 139.37"(L) x 47.25"(W) x 53.15"(H)
Weight Crated: 64": 1,455 lbs. (660Kg) 74": 1,455 lbs. (660Kg) Weight Uncrated 64": 970 lbs. (440Kg) 74": 1,014 lbs. (460Kg)
Jumbo Roll Unwinder Dimensions: 106.30"(L) x 21.66"(W) x 35.43"(H) / Weight: 253.5 lbs.
Jumbo Roll Unwinder Electric: Single Phase, 200~240V, 50/06Hz, 4A
Print Speed:




| | | | | |
| --- | --- | --- | --- | --- |
| Main Scan (DPI) | Mode | Sub Scan (DPI) | Speed (m/h) | Pass |
| | Normal | 600 | 64": 115 74": 135 | 2 |
| 600 | | | 64": 80 74": 85 | 4 |
| | Interleave | 900 | 64": 55 74": 60 | 6 |
| | | 1200 | 64": 40 74": 45 | 8 |




More Information

| | |
| --- | --- |
| Manufacturer | DGI |
| Print Applications | Dye-Sublimation |
| Media Width (up to) | 64" |
| Printer Type | Sublimation |