Crio 8432WDT White Toner Printer - Starter Bundle
Special Price
$6,995.00
Regular Price
$8,499.00
STARTER BUNDLE!
Save $884.85 when you purchase this complete Crio 8432WDT starter bundle! Get everything you need to start making money right out of the box.
Includes FREE lifetime support, FREE 1 Hour 1-1 training session, FREE shipping, along with all the papers you need for light garments, dark garments, hard surface, tattoos, and sealing sheets.
Unleash Your Creativity with the Crio® 8432WDT
The new Crio® 8432WDT is a digital decorator's dream. This compact 4-color, 4-station white toner printer is perfect for hobbyists, small businesses, and entrepreneurs. The compact Crio® 8432WDT fits on a desktop and prints CMY-K (black) or W (white) on paper, film, and transfer sheets up to 11" wide and 52" long.
Crio's straight paper path technology minimizes paper jam points, so you can print on the widest variety of media over comparable printers. And with toner costs averaging around $0.35 per sheet, you can profit from even the smallest orders!
With your Crio® 8432WDT, you not only get a printer – but a business in a box! The 8432WDT comes ready-to-go with CADlink Digital Factory 10 RIP Software, so you can start printing right out of the gate. You also receive a Crio® Remote Support Tablet, which is loaded with all of the resources, tools, and support you need to be successful.
Check out our Product Sheet - found under Downloads!
Why Crio®?

RIP Software Included
Every Crio® printer comes with a version of the Digital Factory White Toner Transfer RIP software. The intuitive software offers high fidelity color and includes print production tools not found in most sublimation RIP software solutions.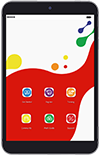 Remote Support Tablet Included
The Crio® remote support tablet is your all-in-one tool for success. The tablet has everything you need to be successful in a single device. The tablet is preloaded with links to important tools unlocking endless opportunities.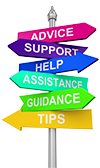 Printer to Process Support
While many manufacturers only provide support for their equipment, Crio® takes support to a new level by providing printer to process assistance. We want you to succeed, and to us that means service beyond the printer.
Success Resources & Training
From how-to videos, to marketing kits, to profit guides, Crio® is here to help you up your marketing game and elevate your knowledge. All of these exclusive assets are available to Crio® owners at MyCrio.com.

CrioCare Warranty
Crio® offers unparalleled warranty to ensure your peace-of-mind. Every Crio® printer comes with a 2-year onsite warranty. That's right, onsite. That means if we cannot fix the issue remotely, we will send a service technician to your door.
Why White Toner Transfer?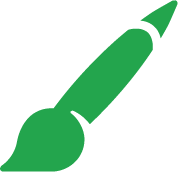 Any Color, Any Material
Create beautiful, vibrant prints that transfer onto hundreds of different light and dark materials such as cotton, polyester, denim, wood, acrylic, glass, metal, and more!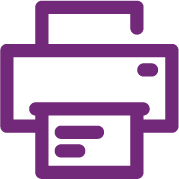 Print to Profit
Print 1 or 100! With the white toner process, you don't need to set a minimum order quantity. You'll be able to accept one-offs to large custom orders and still profit.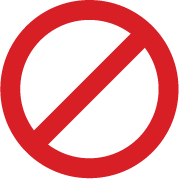 No Weeding, No Problem
Crio® white toner transfers are self-weeding. There is no-cutting, no-weeding, & no-backgrounds to deal with. Increasing production speed, saving both time and money.

Full Color, High Resolution
Easily print full-color, high resolution designs or photographs with the widest color gamut up to 1200 x 600 dpi to transfer even the finest of details.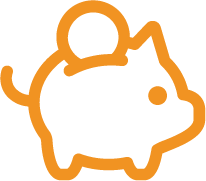 Low Cost of Ownership
Unlike sublimation or inkjet printers, Crio® white toner printers requires virtually no maintenance other than replacing consumables, as needed.
Why White Toner Transfer?
Powered by OKI Technology
The new Crio® white toner printers build upon the success and legacy of the OKI white toner laser printers for digital heat transfer. Crio® systems continue where OKI left off by offering the same high-quality prints and transfers that you expect from an OKI white toner printer. Crio® takes it a step further by providing unparalleled support with CrioCare, a professional RIP software free with purchase, and a Crio® Remote Support Tablet to get the most out of your Crio® system.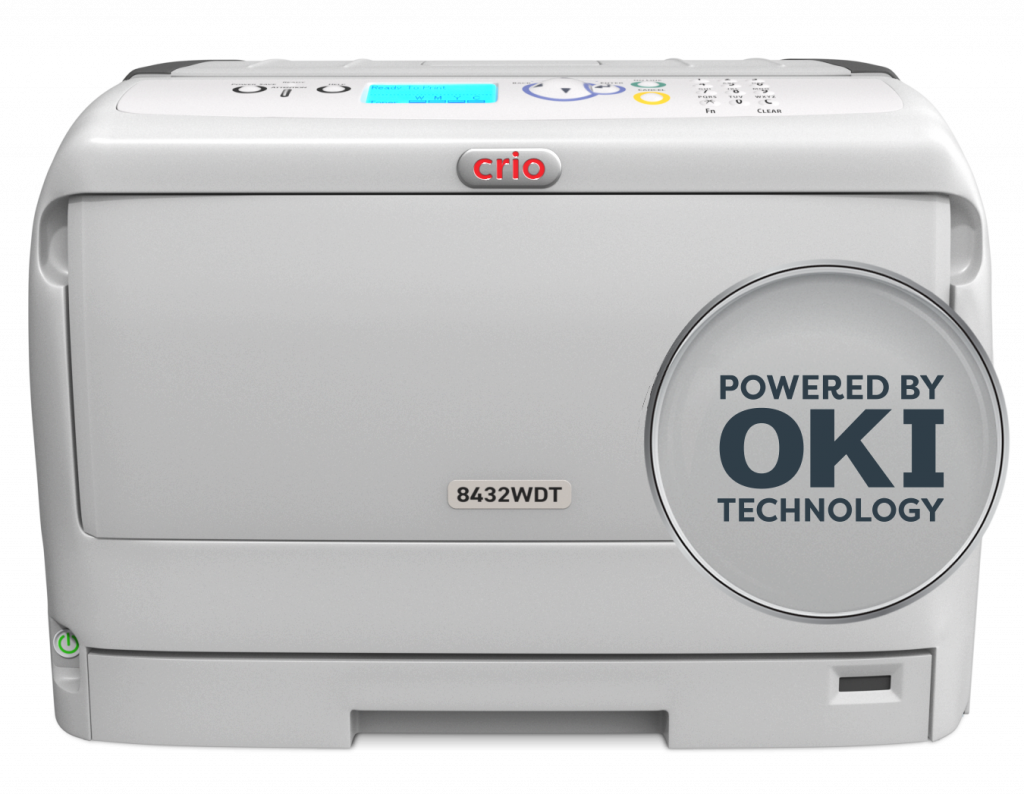 Crio® 8432WDT White Toner Printer
CADlink Digital Factory 10 RIP Software
Crio® Remote Support Tablet
Standard Set of Toner (Cyan, Magenta, Yellow, White)
Standard power cord
USB cord
100 Sheets Laser Dark 11x17 A&B Sheets (for dark colored garments)
T-Seal Finish Sheet
100 Sheets T-One Paper 8.5x11 (for light colored garments)
Tattoo Paper (10 pack)
100 Sheets Magic Touch CPM 8.2x11.7 (for hard surface)
100 Parchment Sheets
FREE 1 Hour 1-1 Training Session
FREE Lifetime Support
2-Year Onsite Warranty
Print Speed: 8.5" x 11" transfer media-up to 16ppm; 11" x 17" transfer media-up to 9ppm
Media Capacity: 400 sheets max (100 sheet MPT+300 sheet main tray)
Paper Sizes:

MPT: Transfer media up to 11.8" x 17"
Main Tray: A3, Tabloid, A4 (LEF & SEF), Letter (LEF & 1SEF), A5, Legal 13-14, Executive, and media up to 52"

Paper Weight:

MPT: 17 lb bond - 140 lb index (64-256 gsm)
Main Tray: 17 lb bond - 54 lb bond/80 lb cover (64-220)

Processor: 800 MHz PowerPC CPU
HD Color: Combines multilevel LED printhead and microfine toner for sharp detail and rich color depth
Print Resolution: 1200 x 600dpi
Memory: 256MB
Emulations: PostScript 3 (Emulation)
Compatible Operating Systems: Windows 10 or higher, Mac 10.10 or higher
Network Interface: 10/100/1000 Base-TX internal ethernet print server
Local Port Connection: High speed USB 2.0
Resident Scalable Typefaces: 80 PostScript fonts
Size: 17.6" x 21.7" x 14.2" (449mm x 552mm x 360mm)
Weight: 81.7lb. (37 kg) including consumables
Operating Environment Temperature/Humidity: 50°-90° F (10°-32° C)/20%-80% RH
Quality Assured Range: 66°-80° F (17°-27° C)/50-70% RH
Power Consumption:

Active: 700W max 1,400W
Standby: 100W
Power Save Mode: <12W
Sleep mode: 1W or less

Noise Levels:

Active: 52dBA or less
Standby: 32dBA or less
Power Save Mode: Inaudible
Printer: 2-year on-site, 2nd business day service
Digital LED Printheads: 5-year limited warranty
More Information

| | |
| --- | --- |
| Manufacturer | Crio |
| Printer Type | Laser |