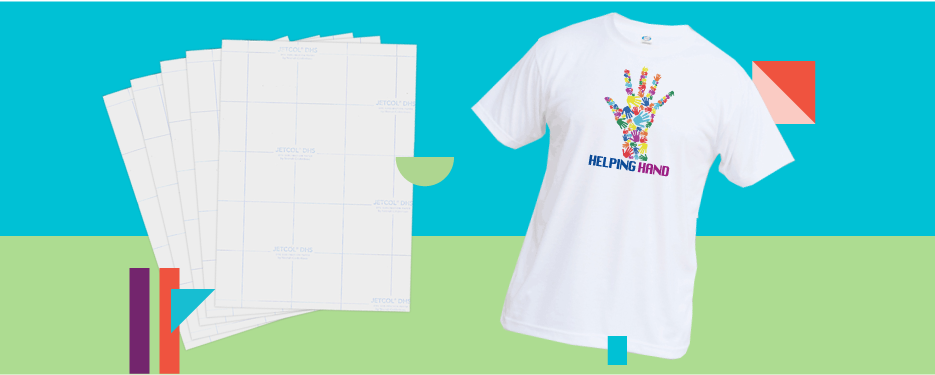 We're excited to announce the addition of a new, premium sublimation paper from Neenah Coldenhove: JETCOL® DHS! While you may be comfortable using your current sublimation paper, we can't recommend this paper enough and encourage you to try it out! Let's talk about why this paper is the bee's knees and go over some of the frequently asked questions.
What Makes JETCOL® DHS Special?
You're probably wondering – what sets JETCOL® DHS apart from other sublimation paper? Why do we consider this a premium paper? The answer lies in the paper's coating.
Most sublimation papers are coated with a conventional clay coating, which allows for the ink to seep deep into the fibers of the paper. Because of this, these papers require more ink to be properly saturated and result in a higher transfer time. (Note: these other papers aren't bad – they're typically excellent and produce high quality images – they just use more ink and have higher transfer times than JETCOL® DHS).
JETCOL® DHS is specially coated to keep the ink on the surface of the paper, preventing it from seeping into the fibers. With this, your printer will use less ink to saturate the paper, and because there is less ink, your transfer times will be reduced.
With JETCOL® DHS sublimation paper, you can expect:
Transfer time reductions up to 50%

Ink savings

Large color gamut
Will I Get the Same Image Quality?
Because you're using less ink than with conventional sublimation paper, a common concern is if you still get the same image quality. The answer is YES! JETCOL®DHS uses less ink to provide the same, high-quality photographic transfers that you would expect with any quality sublimation paper.
How Do I Set My Printer up for JETCOL® DHS?
If you are using a Sawgrass printers such as the SG400 or SG800, you're in luck! If you upgrade to the latest version of Sawgrass Virtuoso Print Manager (VPM), JETCOL® DHS will appear as one of the paper options. Simply select "Jetcol DHS" from the dropdown menu, and your printer will automatically know to use less ink.
If you are using another printer, such as an Epson, you will need to create custom profiles for your printer. If you have questions, do not hesitate to contact our Customer Success Team at 800-562-7760 or [email protected].
How Long Do I Press X For?
A common question with JETCOL® DHS is "How long do I press X for?" given that the paper provides a transfer reduction time. From our experience testing this paper, we recommend starting with reducing your pressing time by 40-50% and adjusting from there.
On the product pages of our website, coastalbusiness.com, we provide recommended times and temperatures for each product, but this is meant for traditional sublimation paper. We suggest taking the time listed and reducing by 40-50% - you can do this easily by multiplying the recommended time by .50 or .60 (i.e. a 60-second press becomes a 30 to 36-second press). Remember, sublimation can be a bit of trial and error, and it may take a few attempts to get the right time. Nonetheless, with JETCOL® DHS, you will find that pressing your transfers takes less time. In turn, that saves you $$ as it frees you up for other tasks.
Who's Neenah Coldenhove?
So, who's the creator of this new sublimation paper? You may be familiar with the name Neenah – they are well-known leaders in the paper industry, based in Alpharetta, Georgia and with manufacturing facilities across the USA and Europe – and we carry a wide variety of their heat transfer paper for inkjet and laser printers. Some of the best-selling transfer papers on the market, JET-PRO® Soft Stretch and 3G Jet-Opaque®, are produced by Neenah.
Inside Neenah Coldenhove's Paper Manufacturing Facility

In 2017, the Dutch paper company, Coldenhove, became part of the Neenah paper family, adding premium dye-sublimation paper to Neenah's expansive paper selection. While Coldenhove may not be a household name here in the United States, they've been around since 1661 when they opened their paper mill in Eerbeek, The Netherlands. Since then, Coldenhove went on to develop the world's first dye-sublimation paper in 1998 and continues to produce dye-sublimation papers of the highest quality.
Does Neenah Coldenhove Offer Any Other Papers?
We're glad you asked! Yes, Neenah Coldenhove has a host of other premium dye-sublimation papers that primarily come in rolls and are geared toward wide-format sublimation, which allows you to print all-over apparel, soft signage, home furnishings and more. At this time, we only carry JETCOL® DHS, which is available in sheets for desktop printers. Stay tuned in the future as we continue to update our offering and add more Neenah Coldenhove papers!
---
Ready to give JETCOL® DHS a try? Purchase it online today!
Want to be the first to know about new products? Sign up for our email newsletter! As always, if you have any questions, don't hesitate to reach out to contact our Customer Success Team at 800-562-7760 or [email protected].