It won't be long before city streets are again packed with festively dressed partygoers as they elbow their way through a sea of green for another pint of the good stuff. Yes, St. Patrick's Day is right around the corner, and as with many other holidays comes great opportunities to make and sell custom merchandise and apparel. Whether you're in the business of making custom T-shirts, drinkware or other promotional products, there are plenty of ways for you to make a little green on St. Patrick's Day. Let's go over some of the most popular products to make.
1. St. Patrick's Day T-Shirts
It should come as no surprise that St. Patrick's Day is a huge day for custom T-shirts. With folks going out to parades, parties and the like, there's a big demand for fun and festive apparel. Just start searching "St Patricks" on Etsy, and the first suggestion is "St Patricks Day Shirt." With over 55,000 results for St. Paddy's tees, there is no doubt that custom tees are one of the hottest items to make for the occasion.
You can keep your T-shirt designs simple and add a green shamrock or four-leaf clover to your T-shirt, hoodie or sweatshirt. One of our favorites for this is using Siser Glitter heat transfer vinyl, which you can find in multiple shades of green as well as gold and white. One thing to keep in mind is that you will likely want to decorate T-shirts that are either green, white, gray, black or blue – and always include some green in your design! Other color T-shirts might not work so well for St. Paddy's.
Also, as a side note, it's important to remember that it's either St. Patrick's Day or St. Paddy's Day – not St. Patty's, which is incorrect. Including the "Patty" on your shirt, which is short for Patricia, is a good way to get yourself pinched!
Another smart idea is to add funny sayings and puns to your St. Patrick's Day tees. On St. Paddy's, folks are going out to have a good time, so it makes sense that they would want to rock a funny tee. Indeed, searches on Google for "funny st patricks day shirts" is the third most popular search after general "st patrick's day shirts" and "womens st patricks day shirts."
Want some ideas for funny phrases? There's no shortage of them on Etsy and Pinterest! But we'll give you a few to get started:
Let's Get Shamrocked

Pinches Get Stitches

O'Hammered

Let's Get Ready to Stumble!

Pinch Charming

Irish I Wasn't So Hungover
Creating funny St. Paddy's tees is super easy, and all you really need are some blank green T-shirts and some white Siser EasyWeed heat transfer vinyl. If you're in need of high-quality, comfortable tees, we strongly recommend Bella+Canvas such as the 3413 Green Triblend tee. Of course, if you also have a laser printer – such as an OKI white toner printer – you can skip the weeding and print the funny sayings out on FOREVER Laser Dark heat transfer paper. It will look great and have a very light hand to it.
2. Home Décor
After custom T-shirts, the second most popular item to make for St. Patrick's Day is home décor. Hopping on Etsy, you will find around 40,000 St. Patrick's Day decorations. This is obviously a huge category, and there are so many cool things you can create. Here are just a few ideas.
Rustic Wooden Signs
Wooden signs make for lovely house decorations, and they're very easy to make with sign vinyl. All they require are blank wooden signs (which you can pick up at your local craft/hobby store), sign vinyl such as Siser EasyPSV, some application tape, and a vinyl cutter like your Silhouette CAMEO or Brother ScanNCut. You can see just how easy it is to make in another blog of ours.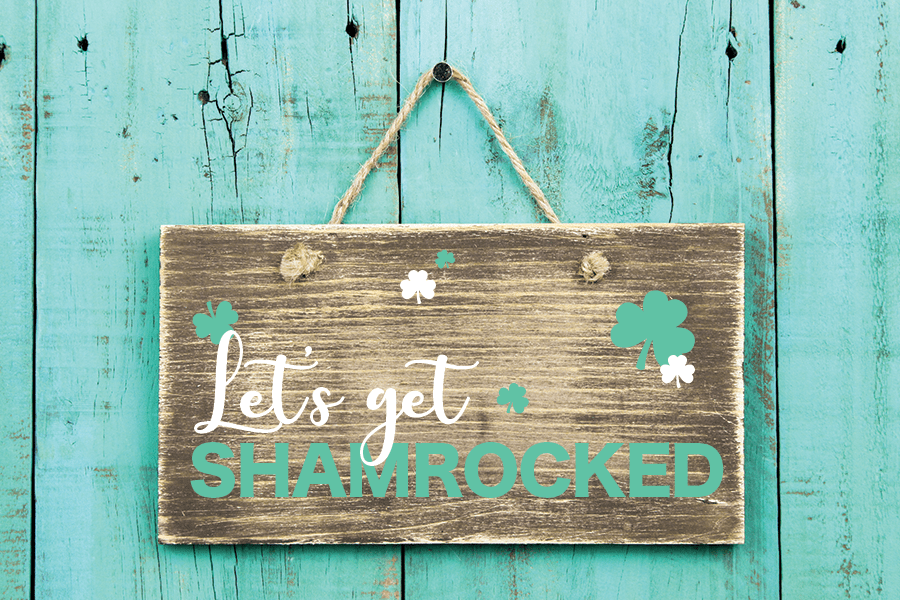 Clover Garland
A popular St. Patrick's Day décor that's very easy to make is a clover garland. While you can do this entirely by hand with scissors, you will save time using your Silhouette CAMEO or Brother ScanNCut. Simply pick out some green or patterned cardstock or craft paper and cut a series of clovers with a couple small holes at the top and string some yarn through them.
Pillow Cases
When you think of St. Patrick's Day, the first thing you think of probably isn't pillow cases. Believe it or not, pillow cases are a popular decoration item to make for St. Paddy's. You can decorate pillow cases with adorable designs using heat transfer vinyl as well as sublimation as long as the pillow cases are made of polyester.
These are just a few ideas for home décor, and if you need more inspiration, you can't go wrong with looking to see what folks have already made on Pinterest!
3. Coffee Mugs
Coffee mugs are one of those products that you can make for almost any occasion, and St. Patrick's Day is no exception. Custom Paddy's coffee mugs are great because, in addition to serving the functional purpose of holding your Irish coffee, they also double as decoration, which we already know is a very popular item to make for St. Patrick's Day. Coffee mugs can be decorated with sublimation as well as some laser hard surface papers such as FOREVER Multi-Trans.
4. Can Coolers
If there's one thing that's certain on St. Patrick's Day, it's that there will be beer – and lots of it. This makes custom can coolers such a great item to create for the occasion. Can coolers are very affordable to produce, and you can print these in bulk with sublimation and heat transfer vinyl. Since can coolers are often made for special occasions like St. Patrick's Day, it's a good idea to offer your customers the ability to personalize their can coolers – such as with names, dates and their sayings. This will make the can coolers extra special to your customers and increases the perceived value of the product, which in turn allows you to charge more money. Cha-ching!
Something to be mindful of when selling beverage insulators is that the term "Koozie" is a registered trademark. We would suggest not marketing your products as such. Instead, you can swap the name to one of these: cozy, coosie, coolie, can cooler, beer sleeve, beer hugger, and beverage insulator.
5. Beer Steins, Bottle Openers and Related Drinkware
In addition to can coolers, there's a lot of drinkware items that you can personalize for St. Patrick's Day with sublimation. This includes beer steins, shot glasses, flasks, bottle openers and more. A personal favorite is the frosted beer stein, which has a semi-transparent frosted glass surface that provides an optimal level of opacity to print vibrant designs with sublimation. Another great item is the clear shot glass with gold trim. This shot glass features a printable white area that will make every color pop, and it has a subtle gold trim that is the perfect touch for a St. Patrick's Day-themed glass.
And that's all! We hope this blog gives you some inspiration of items you can create for St. Patrick's Day, and we hope you do make a little pot o' gold with your custom St. Paddy's merchandise. As always, if you have any questions, do not hesitate to reach out to our Customer Success Team by phone at 800-562-7760 or by email at [email protected].