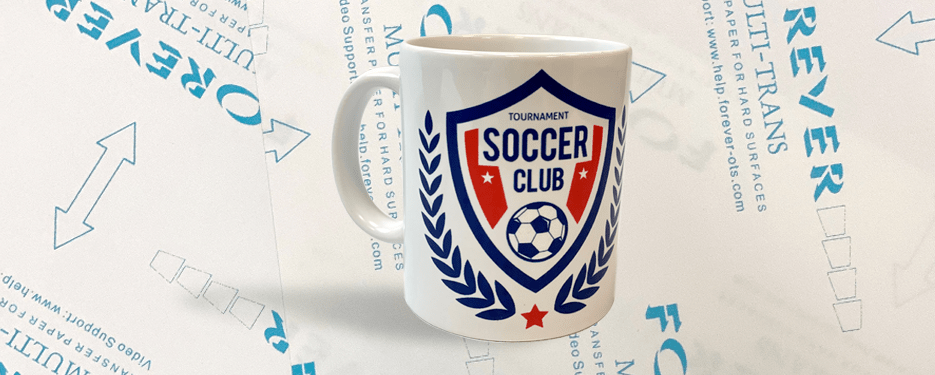 Did you know that you don't need a sublimation printer to create custom mugs? That's right – while sublimation is certainly one of the most popular and effective ways to print custom and personalized ceramic mugs, we're going to show you another way using your laser printer and FOREVER Multi-Trans heat transfer paper. For those who do not have a sublimation printer, or if you're looking for additional uses for your laser printer, FOREVER Multi-Trans is a great way to create custom products like ceramic mugs. And like the name suggests, with Multi-Trans, you can not only print on mugs but on myriad hard surfaces including aluminum, wood and much more.
Multi-Trans vs. Sublimation
So how does FOREVER Multi-Trans stack up against sublimation? Is one better than the other? That's a fair question. Both Multi-Trans and sublimation have their pros and cons with making custom mugs. There are two huge benefits for using Multi-Trans, and the first is that you can use it on any old ceramic mug – not just ones with a polyester coating. That means if you have some mugs sitting around that weren't purchased from Coastal or another sublimation blanks supplier and likely aren't poly-coated, that's no big deal. They will work all the same. Second, with FOREVER Multi-Trans, you also print on colored mugs – red, blue, black – as long as you're printing with an OKI white toner laser printer. If you don't have a white toner laser printer, you can still make custom mugs with Multi-Trans, but you're limited to white or light-colored mugs.
With sublimation, you can only print on white mugs (or very light-colored mugs). However, sublimation's main benefits come in the form of color/print quality and durability. With sublimation, you will get some of the highest quality prints that you can find, and you can print full-color photos in high resolution. Now don't get me wrong, FOREVER Multi-Trans will allow you to print some very fine-looking images, but nothing touches sublimation on this front. The second huge benefit of sublimation is durability. When you sublimate your image onto a poly-coated mug, your image becomes embedded into the coating where it will remain for the life of the mug. When pressing FOREVER Multi-Trans, the paper lays the design on top of the mug's surface, and while it's durable and dishwasher-friendly, there is still a risk of the design getting scratched or wearing off over time.
In sum, both methods are great depending on A. the equipment and supplies you have and B. the needs of your customers.
Okay, So How Do I Use Multi-Trans?
All right, so now that we've discussed Multi-Trans vs. sublimation, let's dive into the nitty-gritty on how you can start making your own custom mugs with FOREVER Multi-Trans laser transfer paper. First, let's go over what you will need.
You will need:
1. A Laser Printer
Your main piece of equipment to start making custom mugs is a laser printer, which is a toner-based system that has either CMYK, CMYWT, or CMKWT toner. Those stand for Cyan (C), Magenta (M), Yellow (Y), Black (K), and White (WT). Laser printers are different from inkjet printers that are more commonly found in homes, which use liquid ink. If you're not sure what printer you have, we recommend consulting with the manufacturer.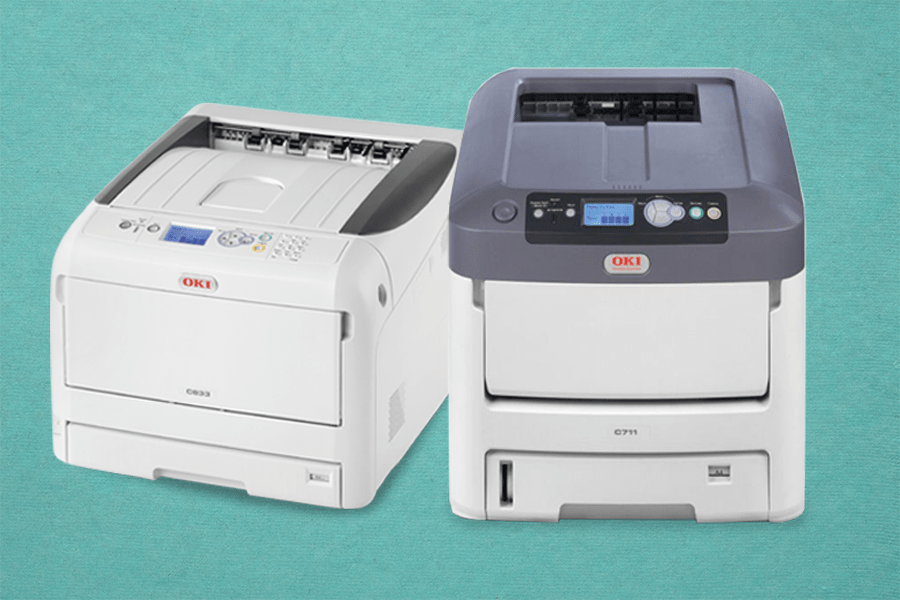 For the purposes of printing with Multi-Trans, we highly recommend the OKI white toner laser printers, which are designed for product and garment decoration. Only with a white toner printer will you be able to achieve all the benefits of printing on Multi-Trans such as printing on dark-colored mugs and surfaces. In addition, white toner printers allow you to print gradients, which is required for printing photos. With a regular CMYK laser printer, you'll still be able to make custom mugs, but you'll be primarily limited to vector-based images with bold colors, and you can only print on light-colored mugs.
2. A Mug Press or Convection Oven & Supplies
Just like printing custom mugs with sublimation, you will need a mug press or a convection oven for heat transfer. You will also need the following supplies: a standard heating element for your mug press, a mug wrap for your convection oven, and thermal tape to tape your printed design to your mug.
3. FOREVER Multi-Trans Laser Heat Transfer Paper
Surprise! You will also need the one thing this entire article is based around. FOREVER Multi-Trans is a self-weeding, one-step transfer paper made specifically for hard surfaces and laser-based printers. In addition to mugs, you can print on a variety of other surfaces.
4. Your Substrate (Mug)
The last thing you'll need is your mug! Remember, unlike sublimation, you don't need any specially-coated mug. Plus, if you're using a white toner printer, you can use any color mug such as black, red, green, etc. If you're using a CMYK printer, you'll want to stick to a white or light-colored mug.
Alright, I've Got My Supplies. Let's Do This!

The wait is over. These are the steps to create your very own custom mug! Let's walk you through the steps now to create a CUSTOM MUG!
1. Turn on and set up your printer.
We highly recommend printing through your printer's multi-purpose tray, as a straight feed, if available. Set your paper media setting to Transparency, Film/Foil, or User Type 1. If you are printing on a CMYWT printer, set your toner density to +3 in the calibration menu for the best color output.
2. Send your design to the printer.

Send your design to the printer from FOREVER TransferRIP, Adobe Photoshop/Illustrator, CorelDRAW or another design program you are using. Ensure the print is in mirror image mode. Coastal offers Multi-Trans in 8.5" x 11" and 11" x 17", so you can gang up your images on one single sheet and then cut them out when ready to transfer, so there is no paper waste! If you are working with FOREVER TransferRIP, make sure that you change the White Fill Upto 300% when working with a black or dark-colored mug.
3. Trim & Affix
Once printed, take your printed transfer off the print tray and cut appropriate down to mug size. Secure the transfer to the mug using thermal tape.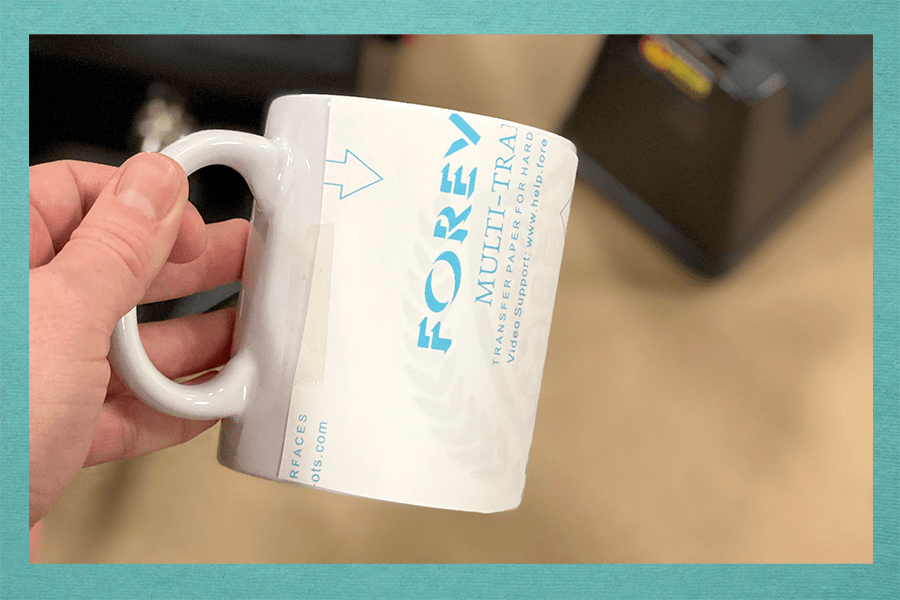 4. Get Pressing!
Set the temperature of your heat press to 284°F and your time to 180 seconds. We recommend pressing with firm pressure. (Press models do vary, heating instructions may change depending on your model) Once your press has reached the recommended temperature, place your mug in the heat press, ensure your pressure is firm, and press your countdown timer.
6. Remove Mug, Dip in Cold Water
When the timer goes off, remove your mug from the press. Dip your mug, with the transfer still on the mug, into cold water. When the transfer paper gets soft, carefully remove your thermal tape and then the transfer in a smooth, consistent motion.
If you are using a convection oven, steps 1-3 will remain the same. Then, place your mug into a mug wrap such as the HIX 11 oz. / 15 oz. mug wrap. Set your oven to 300°F and bake for 5-6 minutes. Once your timer goes off, remove the mug from the wrap, place in cold water, and when the paper gets soft, remove the thermal tape and then the transfer in a smooth, consistent motion.
And that's it!
Now you are ready to start creating your own custom mugs with FOREVER Multi-Trans. Don't forget, Multi-Trans is not limited to just mugs. This paper can also transfer to wood, ceramics, glass, heat-accepted plastics and more. We hope you enjoyed this tutorial. As always, if you have any questions, don't hesitate to reach out to our Customer Success Team at 800-562-7760 or [email protected].