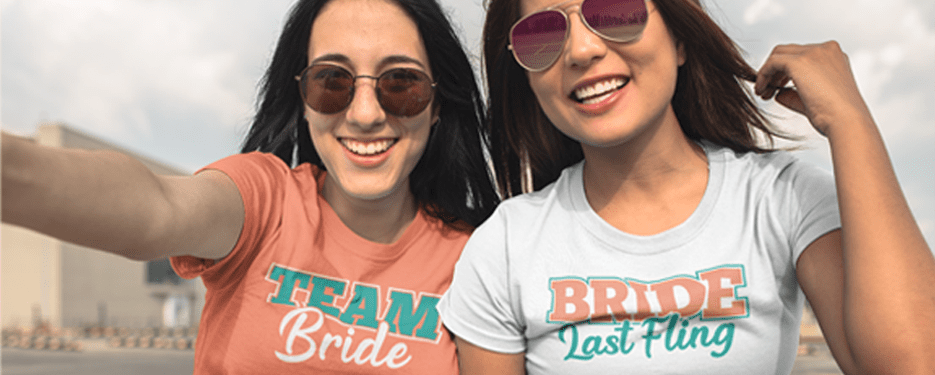 Wedding season will be here before we know it, and it's time to start thinking about what custom and personalized products to start making to celebrate the occasion! Weddings are a category with enormous potential for your decoration business – from personalized bachelor/bachelorette shirts to luggage tags for the honeymoon, you can provide items from the bridal party invitations right up to the big day itself (and in many cases, beyond!). Let's go through some of the hottest wedding items that you can make and sell.
1. Bridal Invitation Gifts
Bridal invitations have become somewhat of a new trend with each bride and groom wanting to select the very best people in their lives to join them on this special occasion. Personalized gifts are the perfect addition to any invitation and are a way for the bride and groom to let their invitees know just how important they are in their lives. Some items you can create are matching T-shirts made with heat transfer paper or heat transfer vinyl. Other popular items include sublimated bridal invite boxes and personalized wine tumblers.
2. Bridal Shower Gifts
Bridal showers are very much a reflection of the upcoming union, and adding personalization to the event makes it all the more special. From decorations to attendee gifts, the options are endless. Just a few ideas include custom napkins that you can press using either heat transfer vinyl, sublimated coasters, and personalized ceramic mugs.
3. Bachelor/Bachelorette Party Items & Gifts
Let the fun begin with bachelor/bachelorette parties! The key to a great party is personalization, and the options here are endless. Matching T-shirts or a personalized sash identifying the bridal party is both exciting and attention-grabbing, and what a fun keepsake to have to commemorate a special time in all of their lives. Some fun bachelor/bachelorette items include sublimated can coolies, buttons, shotglasses, and matching T-shirts for the occasion that you can make decorate with heat transfer paper or HTV.
4. Personalized Items for the Ceremony
The big day has finally arrived – and with it comes many more personalized opportunities such as a sublimated ring bearer pillow with a sweet saying or monogram, a "Here Comes the Bride" sign strung around the little ring bearer's chest, and an "I do" affixed to the bottom of the bride and groom's shoes that can be read as they kneel during the ceremony. Another great item you can decorate is a personalized sign for the ceremony. You can make this with sublimation on poly-coated hardboard signs or create something a little more rustic using a pressure-sensitive vinyl such as Siser EasyPSV on any regular wooden sign from a craft store.
5. Personalized Reception Items & Gifts
Offer the bride and groom and their wedding guests the perfect reception with centerpieces adorned with the couple's photographs, clever items indicating guest seating, and small gifts for guests to take home. Adding a clever quote exclusive to the newly married couple or candid photos of their relationship also makes the experience that much more unique. A few ideas for the reception include sublimated photo panels, drink coasters, and signs decorated with pressure-sensitive vinyl.
6. Honeymoon Gifts
With the wedding over, it's time for you to send the bride and groom off in style with personalized items to make their honeymoon that much more memorable. This includes items such as matching T-shirts with HTV, personalized sublimation tote bags, and sublimated luggage tags.
And that's it! We hope that this blog gives you some inspiration on items that you can make for this upcoming wedding season. There are so many ways to make the big day even more special – while making some money for your decoration business! As always, if you have any questions about product decoration, feel free to reach out to the Coastal Customer Success Team by phone at 800-562-7760 or by email at [email protected]. Happy Crafting!