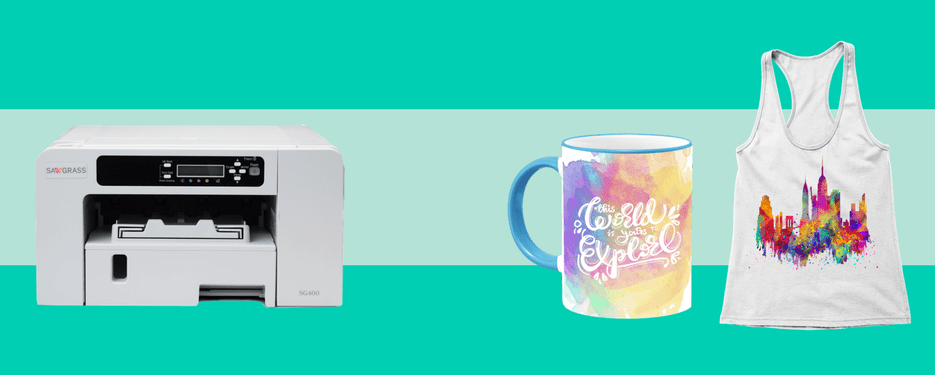 If you're in the heat transfer vinyl business, you've probably heard of sublimation. Choosing whether you want to do HTV or sublimation is a common dilemma, and both applications have their own pros and cons.

BUT you don't have to choose. We're going to show you how providing both heat transfer vinyl and sublimation applications is not only beneficial for your customers—it's beneficial for your business, too. And with the low investment cost of sublimation, you can be up and running as easy as 1-2-3.
Benefits of Adding Sublimation to your HTV Business

1. More Items to Customize
One of the greatest benefits of sublimation is that it opens up a whole new world of items to personalize for your customers. While most heat transfer vinyl is limited to textiles, sublimation allows you to customize a variety of hard surface substrates as well. With sublimation, you can print on innumerable polymer-treated materials. Here are just some of the possibilities of what you can print on: coffee mugs, water bottles, cellphone cases, award plaques, puzzles and MORE!

By employing both heat transfer vinyl and sublimation applications, and thereby offering more items to customize, you can increase your potential customer base—AND your potential revenue! This also provides a great convenience for your customers. Rather than going to one place for their shirts and another for their mugs, you will be their one-stop shop.
2. Full Color Digital Printing
For the customer that needs that exact color. Sublimation affords the ability to print the full Pantone color spectrum, so you can ensure you're getting their color choice just right. With heat transfer vinyl, you're much more limited in your color options, which won't always cut it for print jobs that involve business logos and other projects that require precise color matching. No longer turn a customer away when they say, "Can I get my logo in 2256 XGC?"
3. Unmatched Durability and No Hand
To get technical, when applying heat, sublimation ink converts straight from a solid to a gas. At the same time, the pores in the polymer coating open, allowing the gas to enter. As the temperature falls, the pores close, and the ink returns to a solid state. The print then becomes part of the polymer. The result: a product with incredible durability and no hand.

While heat transfer vinyl can crack and fade over time, sublimated prints last indefinitely. For items that customers plan to keep around for a long time, sublimation is a great option. Hang that "World's Best Boss" plaque on the wall and expect it to look as good in 20 years as the day you put it up.

Because the design becomes part of the polymer, it also produces no hand, meaning you can't feel the print. No matter how thin, heat transfer vinyl still adds a layer to the garment, which often you can physically feel. For customers who want products with a smooth surface, sublimation is the way to go.
4. No Weeding!
No weeding means faster turnaround time for your customers. Really intricate designs can mean a lot of time spent weeding the vinyl. You can skip that by using sublimation. Just design, print, and press! This is perfect for when your customer needs something made ASAP.
When to Use HTV
We've talked a lot about the benefits of sublimation, which may make you think, "Why should I keep doing heat transfer vinyl…if sublimation has all these added benefits?" The answer is that while sublimation adds a lot of capabilities, there are two big areas where HTV is the better application.

• Non-polyester garments
For textiles, sublimation only works on polyester. Heat transfer vinyl can also be applied to cotton, poly/cotton blends and leather.

• Dark-colored fabrics
Sublimation is recommended for white or light-colored substrates to yield optimum results, while HTV works great on any color fabric.

A great point of offering HTV as well as sublimation - you can also combine both applications! With certain vinyl like Siser Glitter, you can sublimate designs directly onto the vinyl before pressing it onto the garment. When your customer demands sublimation on cotton, you can recommend this option.

Recapping the Benefits
By expanding your HTV business to include sublimation, you will be able to:
• Offer a broader range of customizable items
• Provide more flexibility and meet the diverse needs of your customers
This will ultimately help you:
• Grow your customer base
• Drive revenue
So How Do I Get Started with Sublimation?
We're glad you asked! One of the best systems for starting out is the Sawgrass Virtuoso HD Decorating System.
This fully integrated system contains everything you need to start sublimating (minus the heat press). It comes with the Virtuoso SG400 sublimation printer, a full set of standard sublimation ink, 100 sheets of sublimation paper and a sample pack of sublimation blanks. It also includes essential software - Virtuoso CreativeStudio Online Designer and Virtuoso Print Manager.

At Coastal, we absolutely love this decorating system. The low start-up costs coupled with low imaging costs and lightning fast printing speed equals more money in your pocket. The Virtuoso design software also houses a library of thousands of easy-to-use images and designs. That means less time designing and more time printing great products for your customers.

Outside of this intro package, you will also need a heat press. Lucky for you, the flat heat press you use for HTV will also work for sublimating garments and other items with flat surfaces. So, no extra cost! If you plan on adding mugs or other curved objects to your product lineup, you will need an additional heat press, such as a mug press or a 3D heat press.

Let's Get Sublimating!
Adding sublimation to your business has never been easier or more affordable. With the Virtuoso HD Product Decorating System, you can start personalizing tons of new items with a full range of colors. This not only helps to create happy customers…but also a happy bottom line.
---
Ready to get started? Have questions about getting into sublimation? Contact our customer success team at 800-562-7760 or email us at [email protected].