We're Constantly Improving
Your experience on coastalbusiness.com is incredibly important to us. We want to be sure that you can easily find what you need, when you need it, the information provided is accurate, and checkout is easy. So we are constantly working to make sure you have the best possible experience when you come to our site.
We want your feedback
If you have suggestions for changes you would like to see on the website, new products you would like us to add, or any other recomendation, click the button to let us know.
Check Backorder Status
If you have a product on back order, you can now see when that item is
expected to ship!
Click My Account link and log into your account
Click the My Account link again to access your dashboard
In the third section down, under "Account Information" and
"Address Book" you will see "Back Order Status"
This section will provide you with the expected ship date, order number,
order date, sku and quantity of the back ordered item.
This video will guide you through the process.
Stay Tuned: We will soon have additional ways for you to check the status of back orders, orders and more!
Introducing - Coastal Essentials
We know there are certain items that are essential for you to fill that next order. To ensure these products are available when you need them, we've created the Coastal Essentials program. Products showing this icon represent this program as Coastal's promise to have these items in stock* and ready to ship when you need them.
With the launch of Coastal Essentials, you may find that some non-Coastal Essential items can no longer be added to a cart if we are temporarily sold out of that product. If you come across one of these non-Coastal Essential products that are sold out, you can opt-in to be notified when the product is back in stock. In addition, you will also find an expected ship date for that item on the same product page.
*98.9% fill rate based on volume and seasonal demand.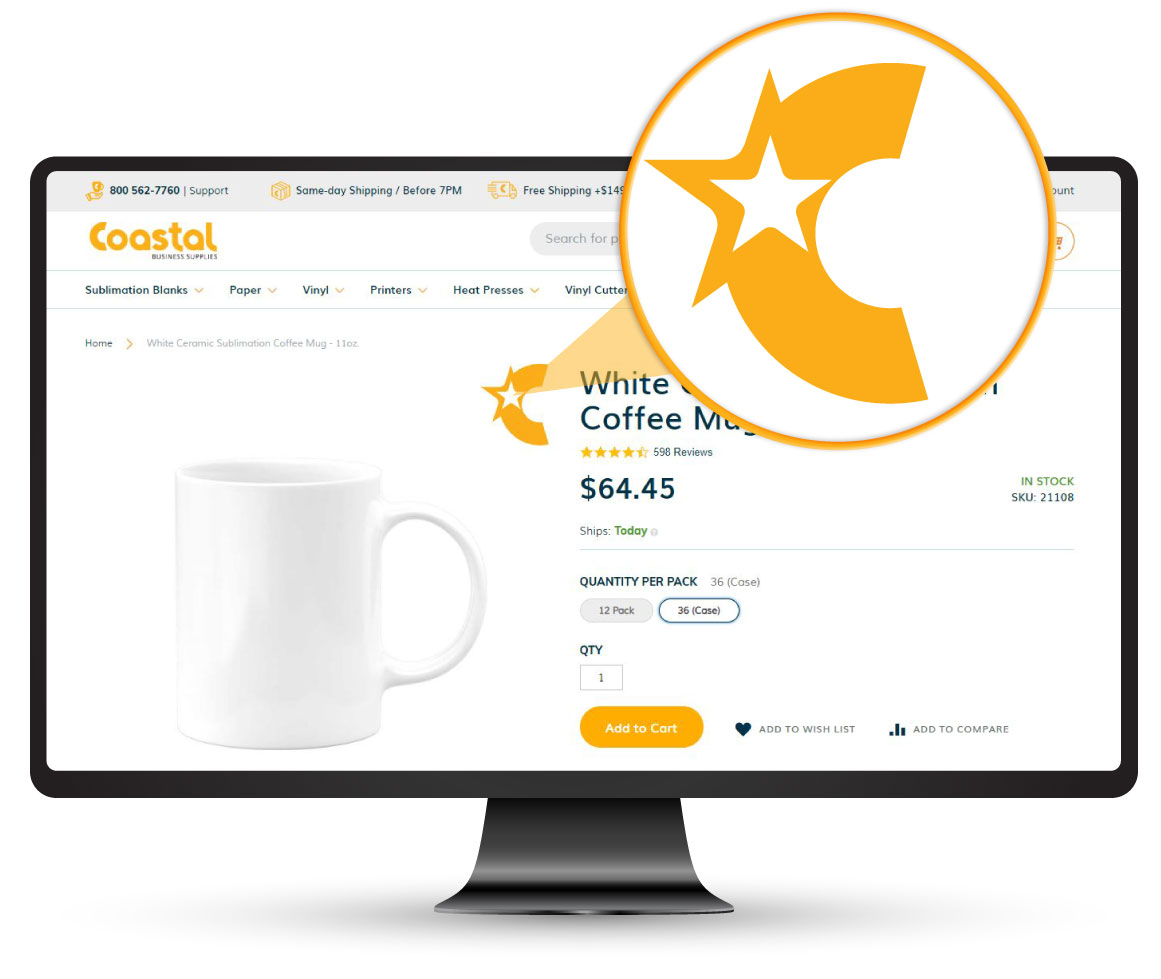 Inventory Messaging & Ship Dates
As you browse the website, you will notice new messaging on our product pages related to ship dates and inventory availability. This is to provide better insight as to when products will ship so you can better plan your purchases. The three main messages are "In Stock", "Sold Out", "Manufacturer Stock".
In Stock – We have inventory on the shelf and the product ships that business day as long as the order is placed before 7pm CST.
Manufacturers Stock – We do not have inventory on-hand but will pull from the manufacturers inventory to ship quickly as referenced by the "Ship" message.
Sold Out – With a 98% fill rate it doesn't happen often, but depending on demand, we can sell through inventory before the next shipment arrives.
Ship Date - To give you a better idea of when items will ship, you will see an expected Ship message in the form of a specific date or general message.
Notify Me When Back in Stock
To help you plan your purchases, we have added a "Notify Me When Back in Stock" option. This will appear when a product is Sold Out, giving you the option to be notified via email and SMS when the product is back in stock. You will also see a "Ship" date that serves as a reference of when we expect that product to start shipping again.
For items that are not designated as Coastal Essentials and the product is Sold Out, there will no longer be the option to place the product on a back order. For those items that carry the Coastal Essentials icon as seen above, you will be able to be notified when the product is back in stock or place an order for the item, which will be shipped to you as soon as the item returns to stock.
Access & Update Your Bolt Account
Shopping online can be a risky business if the website your shopping on doesn't have the proper technology and security protocols in place to protect you. That's part of the reason Coastal Business Supplies partners with the premiere technology company Bolt for our online payment processing. For security reasons, the information you store in Bolt is separate from your coastalbusiness.com account. Which can create some confusion when updating address, phone numbers, etc. on one platform, it doesn't automatically update on the other - yet!
This quick video will show you how to access your Bolt account so you can keep all your information up-todate without any concern for orders being shipped to the wrong address, or purchased on the wrong credit card. To access your Bolt account, click https://account.bolt.com/orders/