Halloween is less than two weeks away - do you have your costume ready? Let's be real: daily life is demanding. When we're busy with classes or work or running a household, time has a tendency to get away from us. Because of this, sometimes the fun parts of life get put on the back-burner and we end up fumbling around Goodwill two days before Halloween, aggravated because what was supposed to be fun has now become just another stressor. But never fear - we understand the pain of balancing a million things, so we've whipped up some incredibly easy and wickedly fun last-minute DIY Halloween costumes that you can make over lunch using heat transfer vinyl! Almost all of our recommendations require just a T-shirt and a little bit of T-shirt vinyl. Check out our photo examples and discover what you need to create these five simple (yet clever) costumes in our list below.
1. Taco Bell Hot Sauce Packet
Send a spicy message this Halloween - create your own Taco Bell Hot Sauce packet costume! All you need is a T-shirt, some heat transfer vinyl and a Liv Más slogan to achieve this look. Create your saucy tee design, then cut - weed - press - and voila! You've officially got yourself a hot costume. Want to really heat things up? Stop by Taco Bell on your way out this Halloween and load up on value menu tacos and sauce packets to hand out all night long!
Tools You'll Need:
• Orange T-shirt
• White heat transfer vinyl
• Time (45 minutes + time it takes to run to the nearest Taco Bell)
Coastal Halloween Pro-Tip: Get a group of friends and dress up as TB hot sauces together! Mild, Hot, Fire, Diablo - everyone choose a flavor that fits their attitude!
2. Iron Chef
Everyone loves costumes based on word play! Put together this clever concept with an inexpensive kitchen apron and a small amount of black T-shirt vinyl. Want to drive the joke home? Get creative and add cooking accessories to your getup - a spatula, chef's hat, oven mitt, etc. When talking to other guests at a Halloween party, present them with impromptu challenges and pin them against one another. Hang out in the kitchen a lot.
Tools You'll Need:
• Apron
• Black heat transfer vinyl
• Spatula
• Oven mitt
• Chef's hat
• Time (45 minutes)
Coastal Halloween Pro-Tip: Cook up some funny one-liners to go with this pun-y costume and you'll be the talk of any get-together. Small talk example: "How often do you do _____?" "Periodically."
3. The Cutest Little Emoji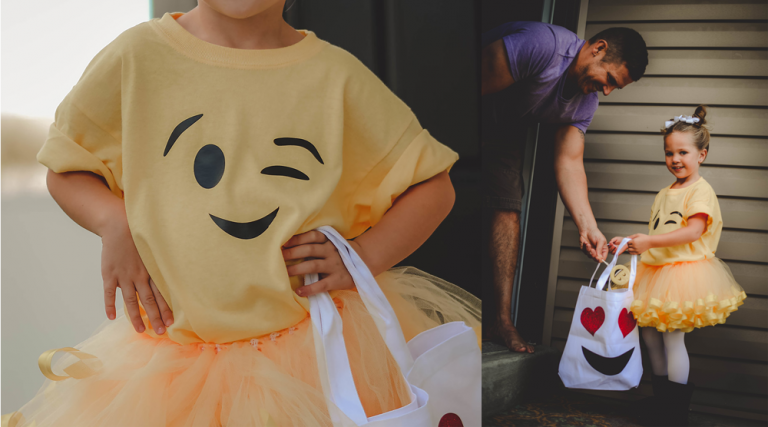 Still need to get your hands on a kid's costume? Forget the department store - create a completely original Emoji costume for your little monster with supplies you may already have lying around! Start with a yellow T-shirt and some black vinyl. There's a dozen or so Emojis to pick from - choose an expression that portrays your child's personality. Bring the outfit to life by topping it off with a fun tutu and adding eye-catching accessories.
Tools You'll Need:
• Yellow T-shirt
• Black heat transfer vinyl
• Yellow tutu (here's a quick DIY tutorial!)
• Emoji Trick-or-Treat bag (make your own with glitter HTV!)
• Time (this will vary, depending on how many details you add - to be safe, give yourself a couple hours)
Coastal Halloween Pro-Tip: When addressed while wearing the Emoji costume, the wearer should only respond in a manner that fits their Emoji's expression.
4. Spooky Skeleton
You can work a lot of magic with a black T-shirt, a pair of leggings and a couple sheets of white vinyl! Put your graphic design skills to the test and create your own set of bones to press. Before sending your skeleton design to your cutter, try on your T-shirt and determine ideal HTV placement. Take measurements and apply them to your design file. This will ensure that your rib cage/pelvis/bones don't end up looking too big or too small.
• Black T-shirt
• Black leggings
• White heat transfer vinyl
• Makeup / tools / YouTube Tutorial
• Time (one hour + three hours for makeup application if you're a novice like me!)
Coastal Halloween Pro-Tip: Give the neighborhood kids a scare - create your ghoulish getup using GLOW-IN-THE-DARK vinyl!
5. Costume Judge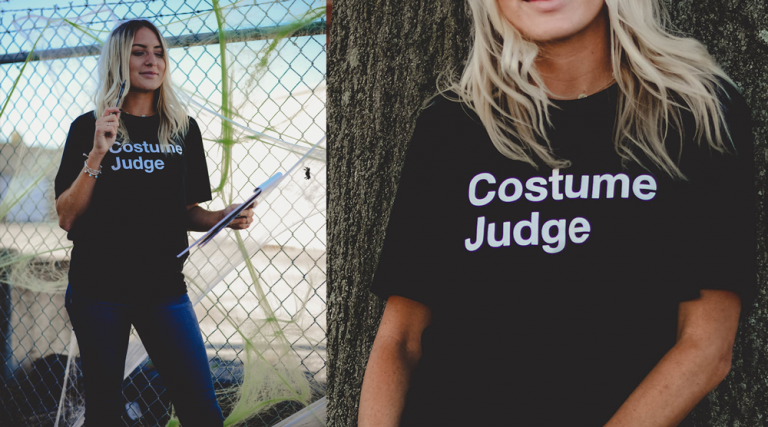 No time and no money left to spend on Halloween? This Costume Judge tee is the end-all, be-all last-minute Halloween costume - throw it together in no time and show off your sass while saving some cash! All you need is a black T-shirt, some white vinyl and thirty minutes.
Tools You'll Need:
• Black T-shirt
• White heat transfer vinyl
• Time (30 minutes)
Coastal Halloween Pro-Tip: Carry around a notepad and pen, and silently judge everyone all night long. Give out full-sized candy bars or small trophies to others for silly-sounding superlatives ("Best Use of Devil Horns").
---
Have an easy DIY costume idea of your own? Got any heat transfer vinyl tips? We want to know - share them in the comments below!