What are you getting dad for Father's Day? And better yet, what are you making for your customers' dads this Father's Day? That is the million-dollar question that rolls around every year. Every dad is different and deserves a gift that is unique to him. Finding unique gifts that dads will dig is not as hard as it sounds – especially when you can create your own with sublimation! Here are five personalized sublimated gift ideas that you can make in time for Father's Day.
Lunch Bag/Beer Cooler
It's no secret that dads love their snacks and beer - especially during a sports event. This Father's Day, whet his appetite with a personalized lunch bag or beer cooler. Our insulated cooler will allow him to carry his beer around easily and features a sublimatable front zippered pocket to customize with your Father's Day message. Add his favorite sports team logo or your favorite photo of you and your dad. This thoughtful personalized gift will make you the favorite child this year!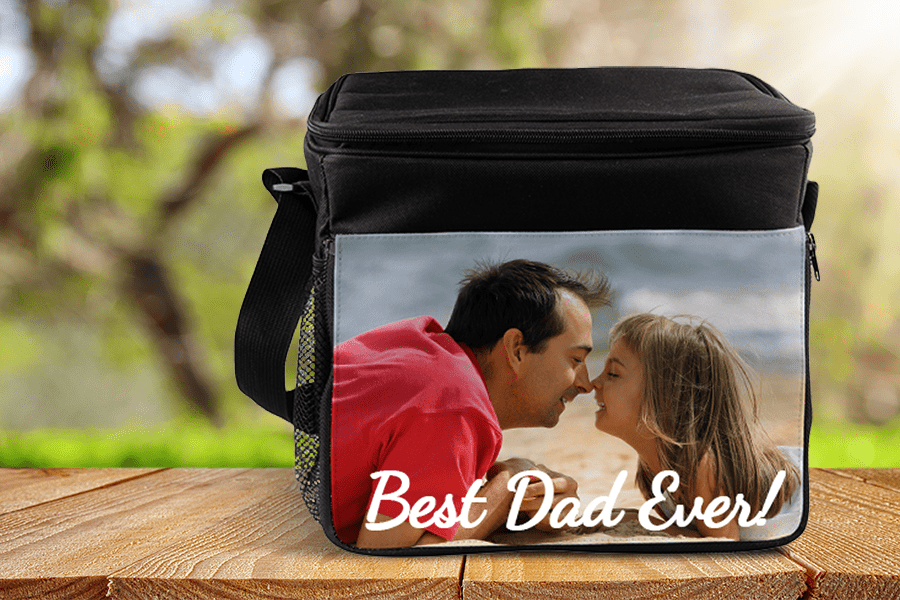 Mugs and Camp Mugs
Dads and coffee are a match made in heaven, and what better way for your old man to enjoy his dark roast than in a personalized mug? There are many ways to personalize a mug from a simple "Best Dad Ever" to something more personal, funny, and endearing. For a wealth of Father's Day inspiration, look no further than all of the Father's Day mugs for sale on Etsy. You're bound to find some great ideas!
This year, also try personalizing one of the new stainless steel camp mugs. Dad will love the durability of this mug, and he can take it to his workshop, camping/hiking, or golf course and not have to worry about accidentally dropping and breaking it.
Magnetic Bottle Opener
Do dads like beer or do they LOVE beer? Either way, they are sure to appreciate a personalized bottle opener to crack open a cold one on Father's Day and every other day. Our magnetic bottle openers make it easy to keep in arm's reach on the refrigerator or out in his garage or workshop. This gift may be small, but the thoughtfulness and loving message will be appreciated every time he uses it.
Sublimation Socks
Personalized socks for dad? Yes, please! Custom sublimated socks are all the rage right now, and when it comes to gifts for dad, this is no exception. Sublimate fun socks with pictures of the family pet, the kids' faces, golf balls, or add fun phrases on the bottoms of the socks like "I'm not snoring. I'm dreaming of motorcycles." There are many opportunities to make socks for Father's Day, but no matter what you print, he will be sure to appreciate the humor of this gift and wear his dad socks with pride!
Face & Neck Gaiter
With face masks surging in popularity during COVID-19 and with no end in sight, a custom face & neck gaiter would be a great gift for dad. While these masks are currently popular for wearing around town, they will be useful long after as they were originally designed for those who sport an active lifestyle. The Vapor Face & Neck Gaiters provide ample protection from the elements – like sun, wind, and insects – and are great for dads who enjoy four-wheeling, hunting, and a day on the lake. The entire area of the mask can be sublimated, which means you have the ability to add all the things dad loves best.